Marin celebrates Dia de los Muertos (Day of the Dead)
Posted by Hilary Davis on Sunday, October 30, 2011 at 11:52:25 AM
By Hilary Davis / October 30, 2011
Comment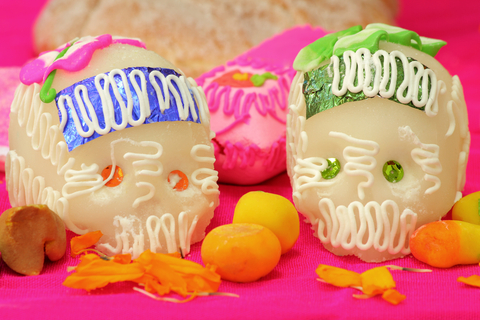 An age old festival, particularly celebrated in Mexico, Dia de los Muertos (Day of the Dead) celebrates and honors loved ones that have died. Traditionally taking place on November 1 (All Saints Day) and November 2 (All Soul's Day), the celebrations are lively and festive. The rituals consist of friends and family gathering to build private alters where they prey, adorn with sugar skulls, marigolds, mementos, food and beverages. Then continue to the graves honoring those that have passed before them. 
Marin offers two great places to participate in this celebration of life.
San Rafael and Pt. Reyes Station
On Saturday November 5, Pickleweed Park (50 Canal St.) in San Rafael will be hosting the 23rd anniversary of The Day of The Dead. Festivities go from 4-9pm. It begins with storytelling, then a procession through the neighborhood and ends with drumming and dancing.
On Friday November 4, the Dance Palace (503 B St.) in Pt. Reyes Station celebrations begin at 6pm. A communal alter will be created, so feel free to bring photos of loved ones, flowers etc. This evening too will end with lively Aztec dancers.
Both dates will prove to be a wonderful opportunity to honor those who have gone before us and to participate in a cultural experience that will enrich us!
Hilary Davis,REALTOR 415.235.3133 Hilary@MarinModern.com