Locol in Oakland - Revolutionary Fast Food
Posted by Marin Modern Team on Wednesday, June 1, 2016 at 11:50:51 AM
By Marin Modern Team / June 1, 2016
Comment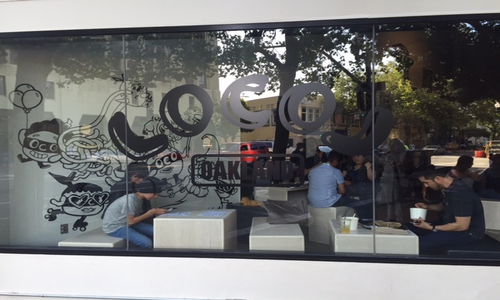 Fast food isn't exactly on a self proclaimed "foodie's" radar, but when I heard about the opening of Locol in Uptown Oakland on May 25, I had to rush out and try it.
Opened as the brainchild of Bay Area chef Daniel Patterson (award winning chef owner of Plum, next door and Haven in Jack London Square) and Los Angeles chef Roy Choi, the goal was to "change the way people think about fast food."By providing both a healthy and affordable place to eat and work within diverse neighborhoods that need it the most, "Locol is a bridge…how we come together and look at each other and say, 'Hey, we're not so different'?"
It certainly is different from any other restaurant I've been to.The décor is street art chic, with a few modern tables and chairs inside and an outside area devoted to it and other restaurants in the same block.My friend and I each ordered the "Burg" one of which is Locol's version of a cheeseburger served on a bun developed by Tartine's baker Chad Robertson.Both melt in your mouth, so juicy and soft, coated with a blend of condiments tasting like a combination of mustard, ketchup with a hint of chili, onions, so tasty, I could've easily eaten two!! And for $5 dollars, amazing.No French fries or sodas here, but there are greens, spicy corn chips (they were all out by 5pm when we arrived) as well as the Burgs (fried chicken, BBQ turkey or veggie), there are Bowls (chili and vegie stews), Foldies (tacos), Crunchies (chicken and vegetable nuggets), Aqua Fresca or cold creamy coffee, Dulces (ice cream sundaes) for dessert.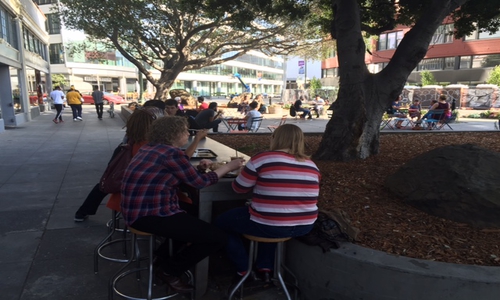 Locol provides work (40 employees) and a place for Oakland's diverse population and culture to come together and enjoy wonderful, fun, healthy food at a very affordable price.The first Locol opened in Watts, L.A. and another Locol opening in East Oakland later this year.
Locol at  2214 Broadway, open 8am to 8pm everyday.See you there!!