Italian Street Painting 'Pop-Up' Festival
Posted by Pam Theroux on Monday, June 23, 2014 at 8:28:30 PM
By Pam Theroux / June 23, 2014
Comment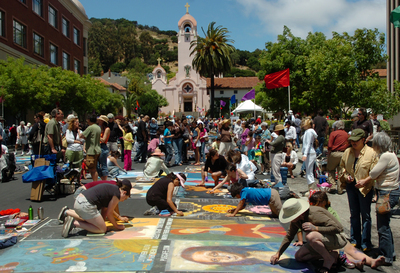 Have you ever been to a pop-up Italian Street Painting Festival?   Whether you have or haven't, there is one happening this Saturday and Sunday in San Rafael!  The inaugural event of the pop-up Italian Street Painting Marin Festival will run Saturday from 10a-9p and Sunday from 10a-6p on "A" Street, between 4th and 5th in downtown San Rafael.  The Mission San Rafael is a beautiful backdrop to the event.  22 artists will be chalking out 12' x 12' paintings with the theme of their vision of California in the 1940's. At one end of "A" Street there will be a place for kids to work on a Disney themed chalk murals! 
Saturday night from 7-8:30p there will be live music, as well as a "meet and greet" with the artists from 7:30-9p.  What a great way to spend a Saturday night ...strolling around, seeing great art on the street (literally) and enjoying great music of the era.  For all the details and information of the event, please visit www.italianstreetpaintingmarin.org.
If you'd like to see more of San Rafael...and any Marin Homes, please reach out via phone or email...I'm always happy to assist you!