Is Real Estate headed towards another Bubble?
Posted by Ary Assadi on Tuesday, June 9, 2015 at 7:07:46 PM
By Ary Assadi / June 9, 2015
Comment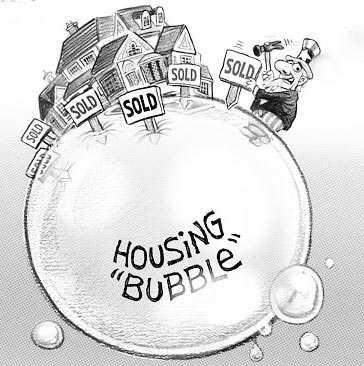 This is a question I've been getting more and more recently from many of my clients. Part of the reasoning behind this question is due to the frustration of how difficult it has been for buyers to purchase real estate in the Bay Area this year. Multiple offer situations have become commonplace and in most instances, the final sales price is significantly above the asking price. So naturally, one is inclined to ponder this question. Admittedly, us Realtors have been concerned as well.
However, when comparing today's real estate market to that of 2007-2009, there are some significant differences. Yes it is true that both then, prices were appreciating rapidly, much like they are now, but for different reasons. Here are the main reasons that what we are experiencing now is very different from what sank the real estate market during the Great Recession:
-Much of the real estate price appreciation prior to the recession could be attributed to speculation. Properties were being purchased for the sole purpose of turning a quick profit. The reason for price appreciation in today's market has more to do with a supply shortage. There is simply more demand than supply and that has been evident all year long.
-Another notable difference is today's lending environment. It's common knowledge by now that subprime mortgages and general loose lending standards were major catalysts of the real estate crisis. Although lenders are once again beginning to offer more versatile loan products, we are a long way away from 0 interest, no-doc, stated loans with adjustable rates, that were so prevalent just a few years ago. If anything, we have yet to return to "normal" lending environment and many would-be buyers are still having trouble securing a mortgage.
-Although qualifying for a loan can still be a relatively difficult task, approximately 30% of real estate purchases this year have been all cash transactions. Since cash purchases of real estate do not involve a loan, these homes are essentially immune to foreclosure. Moreover, foreign investment has played a significant role in today's demand for real estate. That, coupled with an improving US economy are all key indicators that our current real estate market is robust for all of the right reasons. For a more detailed explanation on this topic you can view this short video from the National Association of Realtor (NAR).