Ice Skating!
Posted by Pam Theroux on Saturday, January 2, 2016 at 5:33:35 AM
By Pam Theroux / January 2, 2016
Comment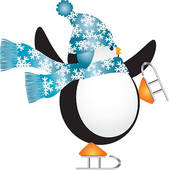 It's cold outside and that means it's the perfect time to get in some family ice skating..and some hot chocolate! Here's a list with all you need for some fun time on the ice in Marin County, Sonoma County and San Francisco:
Marin:
Northgate Mall Rink in San Rafael

This seasonal outside skating rink is located in the Oaktree Plaza area of Northgate Mall (same location as the outdoor music in summer). This spot is perfect for all ages, they even offer "skate buddies" for rent- which are like walkers designed to go on the ice. Dates: Nov. 8, 2015 - Jan. 10, 2016
Times: See schedule for times.

Cost: $15/person includes skate rental, good for entire day with in and out privileges 
Online: marinonice.com
Sonoma:
Snoopy's Rink in Santa Rosa

This is a year-round indoor rink in Santa Rosa. This rink has a seating area with both snacks and full meals, a gallery and gift shop all in 1970s Swiss Chalet style. They even have a "Parent and Puppy Practice" skate where kids under 12 can use chairs to steady themselves as they learn their moves. Pairs nicely with a showing of the new "Peanuts' movie!
Date: Year-round
Times: Check the calendar for Public Skate and Parent and Puppy Practice session times.

Cost: $9.50/adults; $7.50/kids (11 & under); Skate rental: $3.50. Parents & Puppy Practice: $9/adults, $7/kids, includes skate rental
Closures: Open yearround except closed on Christmas Day
Phone: 707-546-7147
Online: snoopyshomeice.com
San Francisco:
The Embarcadero Ice Skating Rink
Dates: Nov. 4, 2015 - Jan. 3, 2016
Times:  Sun-Thurs., 10 a.m. - 9:30 p.m. Fri. & Sat., 10 a.m. - 11:30 p.m.
90-minute sessions start at every even hour.

Cost: $11/adults; $6/kids 7 and under. Skate rental: $5
Closures: Theis rink hosts some private events so do call or  xheck the website for closure listings. 
Phone: 415-837-1931
Online: embarcaderocenter.com


Union Square Holiday Ice Skating Rink
Dates:  Nov. 4, 2015 - Jan. 18, 2016
Times: Open daily from 10 a.m. to 11:30 p.m.
Cost: $11/adults; $7/kids 8 and under. Skate rental: $6
ClosuresThe rink has special events and can be rented for private parties. Check website.
Phone: 415-781-2688
Online: unionsquareicerink.com
Yerba Buena Ice Rink

This is San Francisco's only year-round ice skating rink.  The rink is open 7 days a week., Good for all skill levels.They do resurface the ice, but it can get a little rough for not-so-confident skaters, so best hit the rink soon as a session begins. Lockers and a bathroom are located on site.
Dates: Year-round
Times: Check website as hours do change from day to day.
Cost:  $12/adults; $10/kids 6-12; $7/toddler (5 and under-includes skate rental) Skate rental: $4
Phone:415-820-3521
Online: skatebowl.com
Marin County is conveniently located close to San Francisco, the East Bay, Sonoma County & Wine Country.  If you'd like more information about any of these areas or about homes in these areas, please give me a call at 415-640-0336.