How to Get the Highest Price for Your Home in Less Time!
Posted by Cari Gennarelli on Monday, September 30, 2013 at 1:50:10 PM
By Cari Gennarelli / September 30, 2013
Comment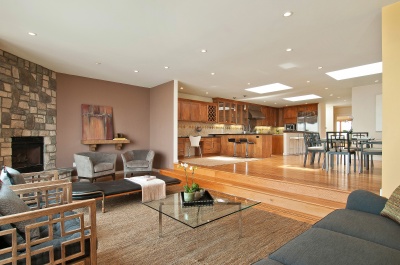 -staging helps define the space in this open floor plan home
How To Get the Highest Price in the Least amount of time for your Home!
Why is staging your home even more important in the digital Real Estate market?
Approximately 96% of homebuyers start their search online.  Those buyers are more likely to click on the homes that are staged and have professional photographs and even more likely with 15-20 + pictures than 5-10.  The more pictures the better.  At this stage buyers are making quick decisions on whether a home is worth seeing in person. They may click through 25-30 homes at a time - what compels them to stop at your home?
In the new digital marketplace the home seller needs to attract the homebuyer. If  the buyers introduction to your property is on one of the many property search websites, such as Marin Modern, doesn't it make sense that the quality and content of the photographs matter? In order to get the best possible images your home needs to be staged and professional photographs taken. 
The goal of preparing and presenting your home for sale is to create a space where potential buyers can picture their lives in your home. Seeing how you live in your home detracts from the buyer experience and creates roadblocks to the end goal of them feeling comfortable in the space and imagining their stuff, their family, their friends.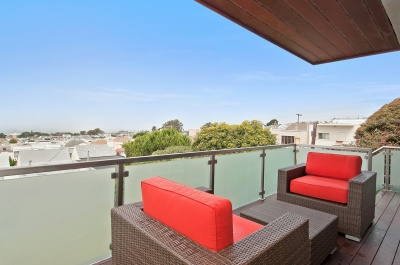 -A few well placed pieced of furniture to define the outdoor space
Staging is the best way to create that space. The stager matches the furnishings and accessories to your homes style/setting with just enough pieces to give the buyers a sense of each space without the personal touches of photos, clothing and clutter.
Staging a home doesn't have to be all or nothing. There are different degrees of staging available:
1.     Stage while living in the home - You can professionally stage your home while still living there. The stager works with you to unclutter and un-personalize your home adding and subtracting furnishings and accessories to present the right feel for each room. It helps if your furnishings are clean and in good condition to start.
2.     Stage after moving out - The most straight forward approach is to have the stager come in after you have moved out, made repairs, painted, etc. and create a cohesive style in your home.
3.     Seller staging - if you already live like your home is staged and/or you have a designers s DYI staging might be for you.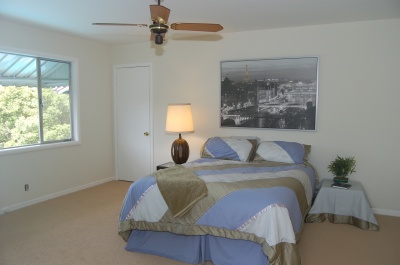 -stager trick - use air mattress and boxes to create a bed. Add colorful bedding and artwork.
Regardless of the degree of staging you and your realtor decide is best, the end result should be a home that is clean looking and smelling, freshly painted, un-cluttered with windows and doors that open freely.
Staging a home for sale is almost always the best course of action but convincing sellers to spend money on staging isn't always easy. I get it. You have decided to sell your home; you typically want to stop spending money on that home and save it for your new home, retirement or other plans.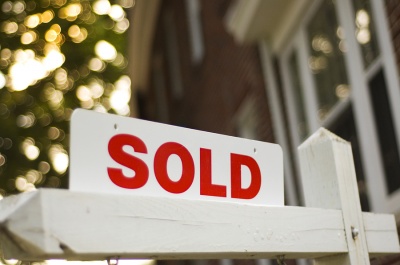 Turns out, staging can actually bring you a higher selling price with less time on the market. Homes that are staged typically sell 50-73% faster and receive offers quicker than homes that are not staged. Staged homes also typically sell for up to 63% more when they are also perceived as turnkey. Spending $550 on staging can garner $2,000 more for the purchase price.
Even the most experienced buyers need help visualizing space inside a home. Many buyers today look at 100's of homes online before they even step into a home. How will your make your home stand out? How will you get those buyers to come see YOUR home?
 If you want more data and information on home staging or getting your home ready to sell - please call me 415.602.4434. Let's partner up and sell your home quicker and for the highest price possible!