How to add more living space to your Marin home on a budget
Posted by Hilary Davis on Tuesday, October 30, 2012 at 4:22:55 PM
By Hilary Davis / October 30, 2012
Comment
How to add more living space to your Marin home on a budget?  There is the traditional way of adding on to a home such as adding a second story, finishing off a basement or knocking down walls and extending the foot print.  Most often a team of specialists is needed, not to mention countless design revisions, permit applications, lots of money, lots of time and what seems like never ending delays and a whole lot of patients.
And there is the new hip way-modernly designed pre-fabricated spaces. From storage sheds to full blown houses, the choices are numerous. Recently, the Marin Modern team was fortunate enough to tour one of the design homes by Blu Homes up in Healdsburg, CA. The propertywas an exquisite pre-fab home utilizing state of the artgreen build construction practices and incorporating sleek clean design lines.  The house and separate pod were beautiful to wonder through.  I am looking forward to seeing more from Blu Homes when they team up with Homeward Bound in Marin County.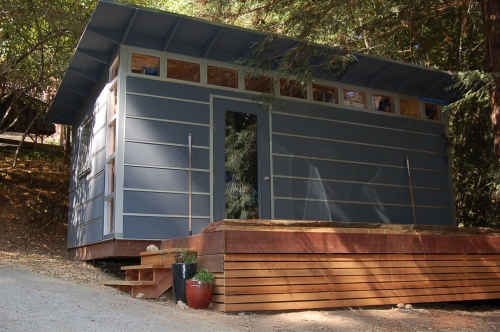 Studio Shed is another innovated company providing hip prefab structures for the design conscious home owner wanting more space.  Born out of Colorado, Studio Shed owners set out to create smart yet small spaces and they have done a beautiful job. I was curious to see what a Studio Shed looked like in person...how lucky could I get, my new listing in Nicasio has a beautiful 10'X20' shed on the property.  It was delivered, unpacked and set up quickly.  This shed, which is currently being used for storage, is pretty darn nice!  It has side windows, a glass door, clerestory windows and a deck-heck I would sheet rock it and use it for an office. If you are curious and want to take a peek, come to my open house onSunday November 4 1-4pm (6970 Lucas Valley Road, Nicacio, CA) and check it out!
These pre-fabricated dwellings are gaining much deserved attention.  And they should. They are greener to make, install and live in and afford one high-end design on a budget.  Simple, efficient and beautiful, if you are looking to gain more livable space (or even storage) take a look at Studio Shed, Blu Homes and Modern Shed.  I think you will be pleasantly surprised.
If you want to get a existing home or land, give me a buzz, I'd love to Help.
Hilary Davis, Realtor 415-235-3133 [email protected]