How One Gardener Created an Urban Farmer's Market in the West End Neighbohood of San Rafael
Posted by Marin Modern Team on Sunday, August 5, 2012 at 2:19:38 PM
By Marin Modern Team / August 5, 2012
Comment
As a kid, former San Rafael West End neighbor, Karen Russcher, filled her wagon with vegetables from the family garden and sold them to the neighbors.  On a lark, she decided to turn a large portion of her under-utilized backyard into an urban garden, planting tomatoes, corn, peppers, zucchini and chilies to compliment the fruit trees that were already there.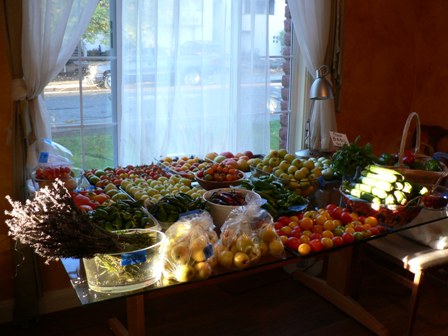 When Karen, a licensed landscape architect, found herself out of work due to the economy, it didn't take her long to get creative.  She opened her neighborhood farmer's market, and received a welcoming response from the neighbors, bikers and passers-by. Located on Greenfield Avenue, one of the busiest streets in the West End, didn't hurt.  Before long, she had a steady stream of business on market days, Wednesday and Saturday.  Some of us found ourselves knocking on Karen's door on non-market days so we could buy whatever was freshly picked from her garden and sitting in bowls on her dining room table.  Although Karen didn't get rich and it didn't pay the mortgage, it did pay a few of her bills.  It was heavenly for West Enders and we did what we could to support her.  We lost a neighborhood treasure when Karen eventually accepted a teaching position in North Carolina.  We miss her and her garden!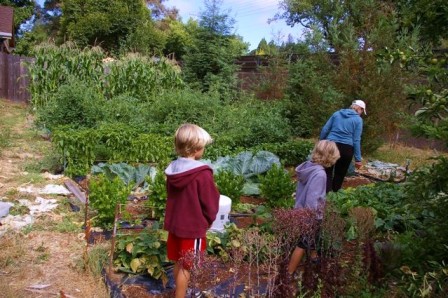 Today, many buyers are looking for a lifestyle that is close to nature, eating what is local and in season and having a garden to grow their own food.  Land is expensive in Marin so for many, having a plot of land for a garden isn't always possible.  However, there are 86 community gardens, according to the Marin Master Gardener's website, scattered throughout Marin County.  A community garden can be fun and a great way to make new friends, share your love of gardening with others and learn from each other, maybe even start your own urban farmer's market. Check out the Marin Master Gardener website and find out how you can get a plot for a garden.  Maybe you will be the next "Karen" in your own neighborhood.