Home Improvements - Kitchen remodel Do's and don'ts
Posted by Cari Gennarelli on Monday, September 24, 2012 at 9:55:14 PM
By Cari Gennarelli / September 24, 2012
1 Comment
Home Improvements - Kitchen remodel Do's and Don'ts

  Before( dark, sad, 60's)    

After (Bright, happy, modern)
Whether you're a Martha Stewart wanna-be or a heat and serve cook, the kitchen is the most important room in your home. Almost all homeowners fantasize about their "dream" kitchen. Buyers searching online for homes often base the value and desirability of a potential property by the kitchen first.
I have family members who have invested thousands into their kitchens and never plan on cooking a meal. Why? Because if you don't do it for yourself, smart homeowners always consider resale when making changes and improvements to their space. If you don't you should.
If you are considering a kitchen remodel there are plenty of do's and don't to consider before your contractor of choice makes that first swing of his/her hammer.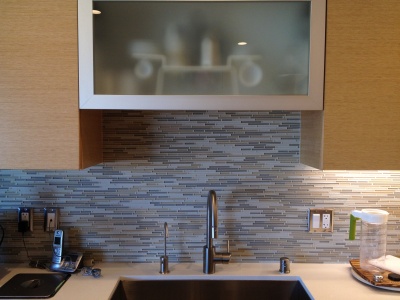 Glass Tile, Water filter, disposal button, built in composting bin
I am in the final stages of a kitchen remodel that was 15 years in the making. My building was constructed in the late 70's and my kitchen has not been touched since. I had drawers that actually fell apart; a dark dead corner and permanent stains in my old rusted porcelain sink. My kitchen was dark, sad and too small for someone that enjoys cooking or really for anyone.  A long overdue facelift was in order.
Even though I had professional architectural plans drawn up, a meeting with designer and contractor and 5 years of past construction management experience I entered into this project with my eyes closed. Looking back I skipped some crucial steps and was over anxious about getting started and finishing. The thought of living without a kitchen for even one week was unfathomable to me but I was being short sided.
First, interview your contractor and talk to past clients. Make sure they have experience producing the level of sophistication your design and finishes present.  I know better and I still blindly trusted my contractor of choice. I took his word that this was the type of work they had experience doing. Strike one!
Second, take the time to read and understand the plans - in detail. The first meeting with architect and contactor should not be when the plans are complete. If you can get your contractor involved in the process during the planning stage that is ideal. Even better, find a design/build firm. It's the best of both worlds as the designer/architect is in constant communication with the crew who will be working in your home. Strike two!
Third, ask questions, request clarification and make sure you fully understand all the details and how all the parts will work together. Strike three!
Fourth, choose all of your finishes and fixtures ahead of time including grout colors for tile, paint colors and cabinet pulls.  Before even starting the design process, browse magazines, kitchen stores and visit friends who have recently remodeled to figure out what you like and don't like and what style you are gravitating towards. Your architect/designer should present a materials board with cabinet door color/style, tile, paint color, etc. I actually did pretty good on this one!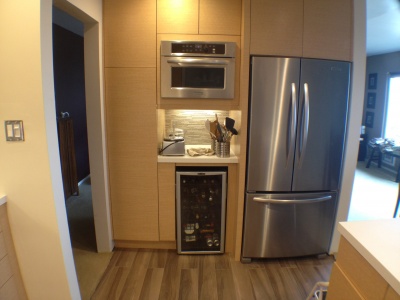 Built in Frids, wine fridge, microwave, porcelain tile
You should also pick out your appliances early on in the design process as the architect will need the specs to incorporate into the plans and the contractor will need the appliance cut sheets for framing the new space as well as for pluming and electrical needs.
My biggest mistake was to assume all those details were on the drawings. I also assumed my contractor read and understood the plans and communicated the details and changes to his crew. Not the case. I stood in my kitchen, 5 minutes past the start of my yoga class, yoga matt and bag in hand picking out the grout color for my tile and finding a local distributor for my contractor. I know, I couldn't believe it either but we had changed the backsplash tile mid project because the tile we chose had a significant price increase and the cost was prohibitive. When we changed the tile we didn't consider the grout color and no one thought to bring it up
.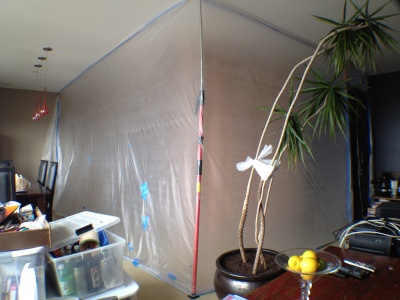 Early Construction
I learned the hard way but you don't have to.  Get involved and stay involved in your remodel project. You don't want to get in the way and slow down the progress so schedule regular site meetings with your contractor to review each step.
No project ends in perfection but when yours is complete you want to love it because of all the fine details, decisions and choices you have made not in spite of the details you failed to consider.
Most of the issues that resulted from my project were fixable for the most part except...I have to live with tile that is a bit crooked, cabinet doors that have nicked corners and instead of 3 weeks without a kitchen I had10 weeks of dining out and living with contractors in my space. Too long for a small kitchen remodel.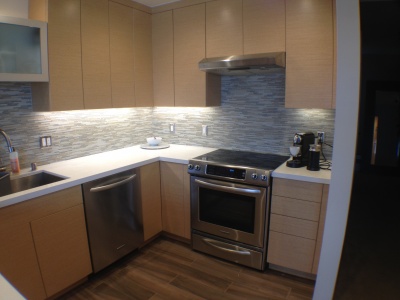 The design of my kitchen is brilliant. We were able to push out the wall from kitchen to living room allowing space to move the fridge and scoot down the stove enough to put a corner cabinet in the dead spot. We built in the microwave and wine fridge, added electrical (I had one plug - yes, one!), added recessed LED and under counter lighting, a larger stainless sink with water purifier, durable and green ceaserstone countertops, formaldehyde free cabinets, a disposal button and built in composting bin.
The cabinets have self-closing hinges and we eliminated the bar and made the counter one level, adding storage cabinets on the dining room side. I use to have to literally crawl into my lower cabinet to retrieve pots and baking pans.
My kitchen is gorgeous and functional. Two people can actually prep and cook at the same time without constantly slamming into each other. It's bright, energy efficient and the cabinets and paint aren't off-gassing toxic fumes.
I absolutely love it, it makes me smile when I walk in, when I cook and when I bend down and grab a pot without having to get on my hands and knees with a head lamp and knee pads. It's sleek, modern, bright and fuctional.
Be smart, be inquisitive and be methodical in all the planning, design and construction phases and you will end up with a space you love that improves your life but also one you are proud of creating.