Holiday Treats!
Posted by Pam Theroux on Friday, December 13, 2013 at 1:40:50 PM
By Pam Theroux / December 13, 2013
Comment
During this festive time of the year, we are all looking for special treats to give or to serve.
I wanted to share two of my very favorites with you: Gramma Betty's Cheesecake & Gaya's Cheeseballs
The cheesecake is my mother-in -law's recipe and is hands-down, absolutely fantastic!  I make this cheesecake throughout the year, but during this festive holiday time, it is fabulous served with chilled cherries of any sort. 
Years ago, my dear friend, Gaya, invited me to help her make 50 cheeseballs that she gives to friends and families as holiday gifts. I thought she was crazy...cheeseballs as gifts?  Well, one taste and I was hooked...they are the best!  They became my new holiday gift tradition too.  A family tradition at our house has become making and wrapping them..last year we made about 60!  My youngest is in grad school and just called to make sure I was waiting until she got home to make them!
Throughout the year I look for little antique or interesting small plates at flea markets and second hand stores to put each one on, then wrap in saran wrap and hand deliver.  People great me at their doors with phrases like, "Oh I was so hoping we were getting one this year!"
Last year one of my cheeseball recipients asked if I would share my recipe and help her make them as she wanted to give them as gifts to her clients!  We spent a few hours drinking wine and making cheeseballs!
So, I hope you try and enjoy these....feel free to email or call me with any questions or suggestions you might have too...and when you are in the market to move, I'd love to help you find your next new home!!
Gramma Betty's Cheesecake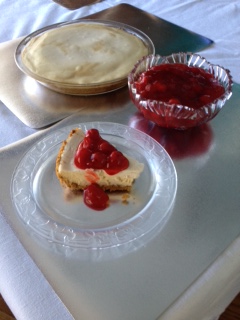 Graham cracker crust:
You can use a store bought one or you can crush 12-14 graham crackers and combine with ½ cup melted butter.  Press into a lightly greased glass pie pan.
Filling:                                                               Topping:
12 ounces cream cheese                                    1 cup sour cream
2 eggs, beaten                                                   1 tsp. vanilla
½ tsp. lemon juice                                              3 ½ tablespoons sugar
¾ cup sugar
2 tablespoons vanilla
Directions:
Put the first 5 ingredients in a bowl and beat until frothy.
Pour into the pie shell and bake at 350 degrees for 15-20 minutes. 
Take out of oven and let cool for 5 minutes.
While this is cooling, combine the 3 ingredients for the topping and beat well.
Pour the topping over the pie and put back into the oven for another 10 minutes.
When you take it out, it will still be jiggly...that's ok.  Let it cool completely and then refrigerate for at least 5 hours. These freeze beautifully.
Gaya's Cheeseballs

Ingredients for 2 large cheeseballs:
2-8 ounce packages cream cheese room temperature
10 ounces shredded sharp cheddar cheese
½ small onion chopped fine
Chopped parsley (the more the better)
2 Tablespoons worchestire sauce
Finely chopped walnuts
Directions:
Put all together in a bowl and mix really well...I find it easiest to use my hands (especially when making large quantities).  Form all the cheeseballs to desired size first and put on a platter.
Roll in finely chopped walnuts, put on a cookie sheet and refrigerate until they get slightly hard.  Then wrap and store in refrigerator.
Can serve with any kind of crackers, but the old standard Ritz crackers really are the best with it!
Enjoy both recipes!  Drop me a note and let me know what you think!