Holiday Recipe | Thanksgiving and Hanukkah
Posted by Marin Modern Team on Tuesday, November 26, 2013 at 2:44:44 PM
By Marin Modern Team / November 26, 2013
Comment
What's interesting about Thanksgiving this year is that it's also the first day of Hanukkah! This hasn't happened since 1888, so as you can tell, it's rare that Thanksgiving and Hannukah fall on the same day. The next time this will happen will be 70,000 years from now. That is a very long time. 
For those who may be celebrating the two holidays together, there are some great recipes that incorporate the tradiational Thanksgiving foods and flavors with Hanukkah ones. Some recipes include potato latkes with cranberry sauce, Maneschewitz brined turkey, sweet potato bourbon noodle kugel, horseradish-chive mashed potatoes...There are some other great ones, too.
One recipe that really stands out is the challah-apple stuffing. Here's the recipe (which can also be found on buzzfeed.com):
Ingredients: 
2 1 pound loaves of challah
1 cup unsalted butter (2 sticks)
2 cups diced celery
2 cups diced onion
2 cups peeled and diced Granny Smith apples
8 sprigs thyme, picked and finely chopped
3 sprigs rosemary, picked and finely chopped
6 sprigs marjoram, picked and finely chopped
3 cups low-sodium chicken broth (or shortcut turkey stock)
Kosher salt
Pepper to taste
9x13-inch baking pan
Preparation/Steps:
Cut the challah into 1-inch cubes and let the cubes sit out in a bowl or on a baking tray, uncovered, for at least 6 hours. You can dry bread in a 250 degree oven by laying cubes in a single layer on baking sheets and baking for 30 minutes if you don't have time.
In a large sauce pan, melt butter over medium-low heat, then add onions and celery. Add 3 tablespoons of salt and ground pepper to taste, and cook until onions are soft - about 8 minutes. Add apples and herbs and cook until apples are soft - about 5 minutes more. 
In a large bowl, combine challah cubes, cooked veggies in butter, and chicken broth (or shortcut turkey stock). Mix until the bread issaturated with the liquid and everything is mixed evenly.
Press stuffing into a 9x13-inch baking dish and cover with foil. Bake at 350 degrees for 40 minutes.
Remove foil and raise your oven to 450 degrees and cook stuffing, uncovered, for another 10-15 minutes, or until the top starts to brown slightly. 
Cool 10 minutes, then serve.
The end result will look something like this: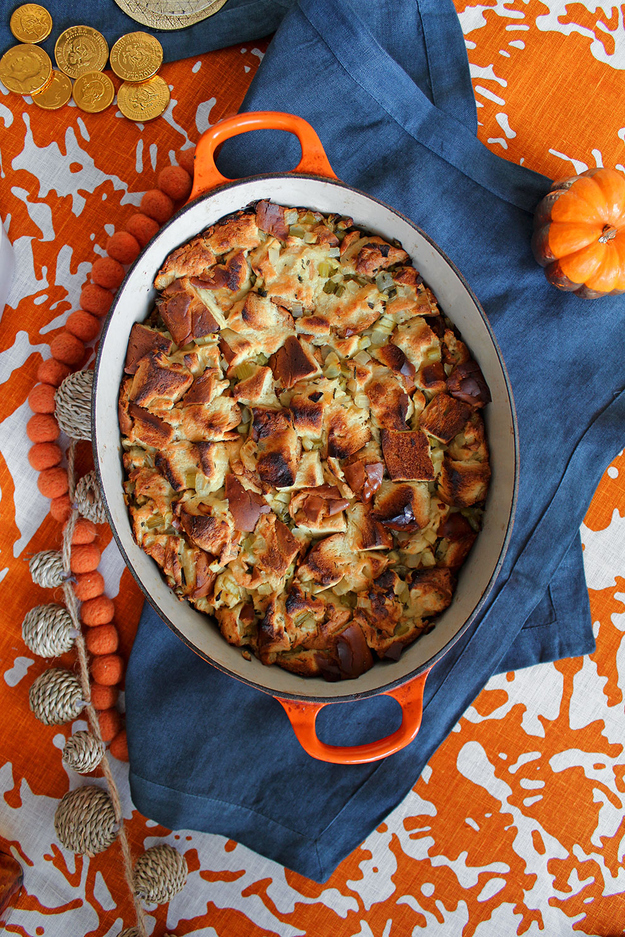 Photo courtesy of Buzzfeed.com (Food section)
This recipe was found in a buzzfeed article about Thanksgivukkah. There are recipes for the dishes mentioned above, and surely you can adapt them to your liking and flavors. 
We hope everyone has a wonderful Thanksgiving and Hanukkah!