Holiday Recipe | Dark Chocolate Peppermint Cookies
Posted by Marin Modern Team on Tuesday, December 24, 2013 at 9:48:39 AM
By Marin Modern Team / December 24, 2013
Comment
A great website to get recipes for anything is All Recipes. It's like a recipe box with thousands upon thousands of recipes to sift through depending on what you fancy for breakfast, lunch, and/or dinner. Since it's Christmas Eve and a lot of you are probably cooking away or trying to figure out that last dessert treat to add to your holiday table, here's a great recipe that everyone loves, with a little variation from the original recipe. 
The original recipe by All Recipe member Jackie Schmidt is titled Chocolate Mint Candies Cookies recipe, but with the variations that will be provided, the recipe is really Dark Chocolate Peppermint Cookies. 
Ingredients: 
3/4 cups butter
1 1/2 cups brown sugar
2 tablespoons water
2 cups dark chocolate chips (semi-sweet or unsweetened, your choice)
2 eggs
2 1/2 cups all-purpose flour
1 1/4 teaspoons baking soda
1/2 teaspoon salt
10-12 peppermint candies, crushed (you can add more if you'd like)
Directions:
In a saucepan over medium heat, cook the sugar, butter and water, stirring occasionally until melted. Remove from heat, stir in the dark chocolate chips until melted and set aside to cool for 10 minutes.
Pour the chocolate mixture into a large bowl (or electric mixer bowl if you have one) and beat in the eggs one at a time. Combine the flour, baking soda and salt, stir into the chocolate mixture. Here's the variation: add the crushed peppermint candies into the mixture. Mix well. Cover and refrigerate for 1 hour or more.
Preheat your oven to 350°F (175°C). Grease cookies sheets. Roll cookie dough into walnut sized balls (they can be a little bigger) and place 2 inches apart on the greased cookie sheets.
Bake for 8-10 minutes in the preheated oven. Be careful not to overbake. When the cookies come out, some of the peppermint candy may seep out the sides, but that's okay! It's supposed to do that.
Makes around 3 dozen cookies.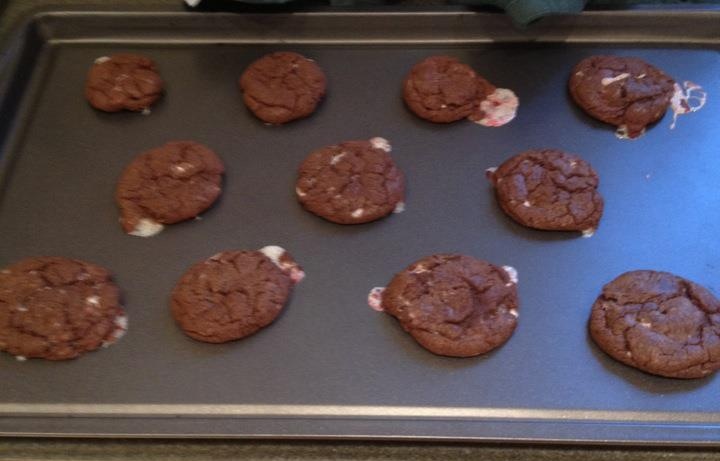 The final result of the variation is above. Using unsweetened dark chocolate chips takes away a lot of the sweetness, allowing the peppermint to shine as the signature of the baked good. Also, it's not as rich with the unsweetened dark chocolate chips. If you like a tad more sweetness, use the semi-sweet dark chocolate chips. 
Enjoy!
Wishing you a Merry Christmas Eve and a happy holiday!