Goings on in Downtown San Anselmo. Cucina Re-opens Under "Old Management"!
Posted by Fred Anlyan on Tuesday, January 5, 2016 at 10:42:30 PM
By Fred Anlyan / January 5, 2016
Comment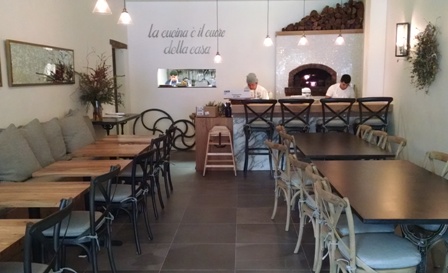 To the present and future delight of those who had for years made it their favorite neighborhood Italian restaurant, as well as legions of the as yet uninitiated, Cucina has re-opened under the original management of Donna Seymour, but with a new twist. Longtime client, Kevin Hansmeyer, has joined the management/ownerhip team. Donna and Kevin now work side by side to provide diners with enjoyable, authentic, and delicious meals that will keep them coming back and telling their friends too!
The freshly updated and remodeled restaurant opened quietly, without fanfare during the week before Christmas, and, even without advertising or promotion, has been consistently busy ever since. Several of the familiar servers have returned, and Bobby, the chef of 15 years, is back in the kitchen, creating each meal from scratch, including the occasional special request from those with dietary or medical needs. The seasonal menu, which changes from month to month, includes pizza, pasta and other traditional favorites, as well as some delicious new additions, and specials that vary during the week.
Next time you're in the area, check out this welcome new incarnation of an old familiar face. Restaurant seating in the front dining room is enhanced by the open-hearth wood-fired oven, while the rear area features a cozy wine bar with small table or counter seating. During warmer weather, there will also be outdoor dining on the wooden bridge. Cucina is open 5:00-9:30 Tuesday through Thursday, 5:00-10:00 on Friday and Saturday, 5:00-9:00 on Sunday, and is closed on Monday. Visit their website for more information or to make a reservation.
And when you need help buying or selling real estate in Marin County, Please Call me; I'll look forward to talking with you!
Fred Anlyan 
Marin Modern Real Estate