Glass Beach...Ft. Bragg
Posted by Pam Theroux on Thursday, August 6, 2015 at 10:23:25 PM
By Pam Theroux / August 6, 2015
Comment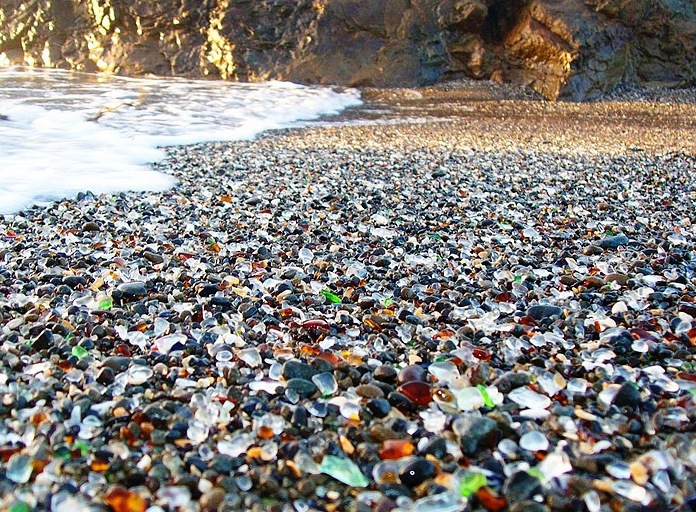 Looking for a short trip to somewhere fun for the whole family?  How about a 2-hour drive to Glass Beach on the Mendocino Coast in Fort Bragg?   Go for the day or stay overnight and have a great time!!  Glass Beach is thought to have the most sea glass of any place in the entire world!
Why do some folks call glass on beaches "Sea Glass, " and others call it "Beach Glass?"  "Sea glass" is technically the name for the pieces of glass found on ocean beaches and "beach glass" is found on the shores of fresh water beaches.
Where did the glass come from?  The 1906 Northern California earthquake flattened downtown Fort Bragg's buildings. Prior to the quake, the folks of the area disposed of their trash by burning it in their yards.  After the quake, there was so much debri and trash the locals realized was way too much to burn, so they began dumping it into the ocean.  They continued to dump into the ocean until the 1960's!  They all thought it would float away....but it didn't leave their little cove area!   The formations of rock under the water kept the currents from taking it out to sea and instead kept it crashing over and over against the rock formations and then setting it back onto the beaches!
In 1967, the North Coast Water Quality Board created a new dump away from the ocean.  Since then, Mother Nature has reclaimed (and cleaned) the beach.  The years of  the different kinds and colors of glasses tossing in the surf and sand have created sea glass that ranges in quality and colors.   You might even get lucky and find some different colors that have fused together...this is known as "fire glass," and is pretty special and rare!
As if that weren't enough, Glass Beach also has a great variety of tide pools for all to enjoy!  Tide pools constantly change, but you will surely see all kinds of life in them....best times to see the tide pool goodies is at low tide.
Please be aware that part of this beach area is within and run by the  CA State Parks and they request that you do not take any glass from their area.  There are Park Rangers enforcing this, BUT if you take a left turn at the bluffs (head south) and go down the walking path, you will find youself in the beach area where you are allowed to take a few pieces!
Lastly, if you get to the beach and you think the glass is all gone...you are definitely in the wrong cove!  Keep looking as it IS there!
If you'd like more info about this area of Sonoma County and/or about Marin County, just give me a call!