Get Rid of Your Grass!
Posted by Pam Theroux on Monday, March 3, 2014 at 11:27:04 AM
By Pam Theroux / March 3, 2014
Comment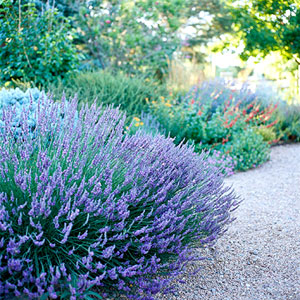 A couple of years ago I attended a local water district forum about water conservation thru drought tolerant plantings.  It was held in the grand ballroom of a local hotel.  I was shocked when I walked in and the place was packed!  I expected maybe a 100 or so folks....there were easily 1-2,000 in attendance!  Everyone was there for the same reason: to hear about taking out our thirsty yards and replace with water conserving plants.  As I mentioned, that was a few years ago and as we all know, now it is even more important that we all get serious about conserving water.
I had the perfect and beautiful front yard....lovely grass, no weeds, beautiful bushes, gardener came every week, sprinklers went on 5+/times per week....and I always had a high water bill.  It was time to save water!
One group of speakers at the forum, were the CAL Berkeley Marin Master Gardeners.  One of my questions to them was how do you get rid of your grass without using poisons or digging it all out.  They talked to me about Sheet Mulching.  Sheet Muching?  Never heard of it, but was willing to try it.  A booklet they gave me explained the process:  cut your grass as short as you can and then completely cover it with weed cloth or even heavy cardboard, then punch holes and plant your drought resistant plants.  Next, cover the whole area with 4-5" of mulch. 
I was looking for a project, so I decided to take this on and do it myself.  I had the gardener cut the grass as short as was possible, then I covered the entire front yard with weed cloth (bought a large roll at Costco for about $40).  I then sat on an overturned bucket, in front of my house with my Sunset Western Garden Book, a sketch pad and drew what I thought I'd want to put in.  I had to make sure the plants were not only drought resistant, but also deer resistant.  No matter what the books say, this is a trial and error process! As I was looking at different kinds of mulches, I discovered Path Mulch from Sonoma Compost Co. They have all kinds of organic mulches, like Vineyard Mulch, Xmas Tree Mulch, etc.  The color and texture of Path Mulch was what I wanted. Even with delivery it came to hundreds of dollars less than other ones I had looked at.  
Plants went in (Ornamental Grasses, Lavender, Salvias, Red-Hot Poker plants), mulch goes down and WALLA, I've got a great new drought tolerant planted yard!  I set the sprinklers to only go on 2x/week for 5 minutes per station.   I'm feeling proud!   I then realize I did an Oops!  Oops?  Well, I forgot to convert my sprinklers from the normal pop-up ones to drip lines!  I didn't want to tear it all up, so I go thru that first year with the regular pop-up sprinklers and I am constantly getting little weeds, clovers, etc. growing in the mulch.  It was driving me nuts!  I couldn't figure out why it was happening and then the light bulb went off!  I am soaking all the mulch with the pop-up sprinklers and it was creating a perfect envoronment for things to grow as they were growing on top of the weed cloth and below the mulch! 
The correction was pretty simple, but this time I hired a landscape/sprinkler person to do the conversion from pop-up sprinklers to drip lines. 
Final cost of the project?  The whole thing, including hiring the guy to convert the sprinklers to drips, was about $1,500.  In the 1st year, my water bill alone went down over a $1000!   We are now in year 3 of our drought resistant front yard and we love it!  The biggest upkeep it requires is in the month of February, all the grass plantings need to be cut way down to the ground and then it doesn't look very pretty for a month or so, but then it all grows back bigger and better than ever.  The gardener charges me $200 to cut it all down...about a 5-6 hour project.  Other than that my front yard requires very little to no maintenance!
For more information and ideas on what to do in your yard, you can find tons of information on the web, at your local garden center, from your water district (mine is MMWD: www.marinwater.org), from the CAL Berkeley Marin Master Gardener site (http://ucanr.edu/sites/MarinMG/Plant_Guide/) and from just driving around and looking at yards that have been converted.  
If you are thinking of selling your home, a new buyer will appreciate a drought resistant, low maintenance front yard too!  If you'd like to know more about the local real estate market or an idea of what your home is worth, give me call!