Gas Fireplace Inserts: Marin County
Posted by Hilary Davis on Friday, January 9, 2015 at 8:23:24 AM
By Hilary Davis / January 9, 2015
Comment
Gas Fireplace inserts: Marin County
Do love the warmth and ambiance of a cozy fire but are frustrated by the limitations of your current fireplace, no burn days and the cost and storage of wood? A gas fireplace insert may be a great option for you.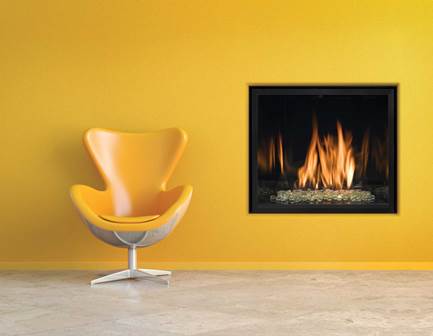 I've always loved a natural wood fire; the ritual of preparing the fire, the smell and the crackle.  However, I live in an Eichler and my fireplace, like most Eichler's, has a wide opening and a short chimney above the roof. This combination most often leads to a smoky home and a lot of disappointing attempts to create a cozy living room experience. A few years ago, unwilling at the time to give up on my traditional fireplace, I had a smoke guard, gas log starter and taller stack installed.  I was so excited to finally be able to have a roaring fire and use the once cold living room again. Boy was I wrong. I still got smoke (although not nearly as much) in the house and the the constant number of spare the air days made having a fire impossible.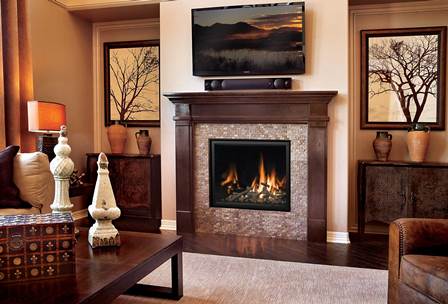 When fall rolled around this last year and temperatures started to drop, I seriously revisited the gas fireplace insert idea. I admit it took about six trips to several showrooms before I made the decision to make the switch. The folks at Hearth and Home Of Marin in San Rafael were a great help.  The floor staff walked me though the different brands and features.  It was difficult for me to decide on what to choose as there are many options ranging from just gas logs (which are pretty, but don't put out a lot of heat) to full inserts with a traditional log look to ultra-modern glass rocks that act as another heat source.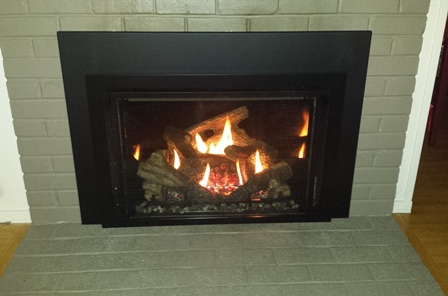 The owner at Hearth and Home Of Marin came to our house for a consultation.  We not only wanted the ambiance of a fire but another heating source.  With that in mind he directed us to a Mendota model that put out the most heat. I placed our order then hired an electrician to run the electrical required to the inside of the fire box and hired a plumber to reconfigure the gas already there.  It's important to keep in mind you will need electric and gas in the firebox by installation date (contact me for a referral).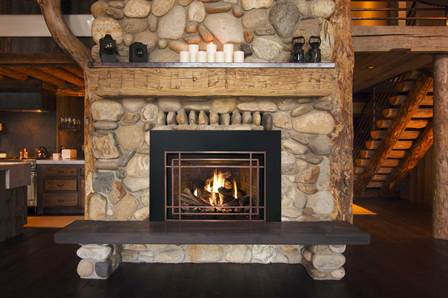 The installers from Hearth and Home of Marin were great-nice, skilled, fast and helpful in giving me a quick tutorial on use. All I can say is...I wish I did this years ago! The ability to have an instant fire that looks great puts out heat and can operate anytime I want, far out ways the smell, crackle and ritual of a wood burning fire. We have been enjoying the ability to actually use our living room that was always too cold in the winter. I highly recommend investigating the alternative to the traditional wood burning fireplace.
Hilary Davis, Realtor (415) 235-3133
(415) 235-3133 Hilary@MarinModern.com