Free Electronics Recycling In Marinwood: April 20, 10am-2pm
Posted by Hilary Davis on Sunday, April 7, 2013 at 5:39:12 PM
By Hilary Davis / April 7, 2013
Comment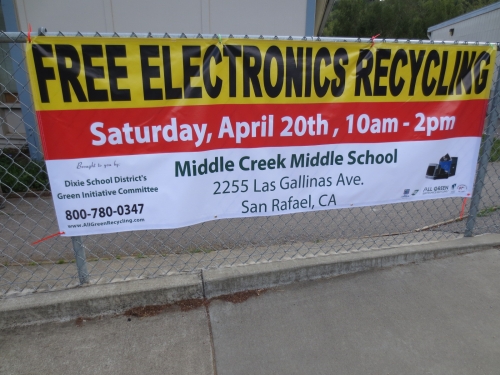 Brought to you by the Dixie School District's Green Initiative Committee, it's time to recycle all your electronic waste.
Who: Everyone is welcome and there is no limit to what you can bring.  So tell a friend, ask your company or businesses in your area to recycle, too.
What you can recycle:
Most electronics equipment such as: Television sets,
CPU's, Computer Monitors, Computers, Keyboards,
Laptops, Printers, Copiers, Scanners, Fax Machines,
Servers, Main Frame Units, Networking Equipment,
Systems, Printed Circuit Boards, Telephones, Cellular
Phones, DVD Players, VCR's, Radios, Microwave Ovens,
Stereo/PC Speakers, Small Appliances, Wires, Cables,
Chargers, Adapters, Ink/Toner, VHS Tapes & CDs,
Gaming Systems, Consumer Electronics, working or not.
Where: Miller Creek School Parking Lot,  2255 Las Gallinas Ave. San Rafael (Marinwood), CA 94903
When: 10am-2pm  Saturday, April 20, 2013 
Why:
E-Cycling: Conserves natural resources because recycling recovers valuable materials from old electronics to make new products. As a result greenhouse gas emissions and pollution are reduced, and energy and resources are saved by extracting fewer raw materials.
Protects the environment by reducing the amount of toxic chemicals, like lead and mercury that are leeched into landfills from discarded electronics devices.
Benefits the community by making refurbished or ready-to-use electronics available to those in need.
All Green Recycling will handle the project. Please do not drop off before April 20th.
Hilary Davis, Realtor   Green Certified  415-235-3133 [email protected]
Helping Buyers and Sellers in Marin-San Francisco-Sonoma County