Floating Home Property Taxes Explained
Posted by Cari Gennarelli on Sunday, September 11, 2011 at 9:57:50 PM
By Cari Gennarelli / September 11, 2011
Comment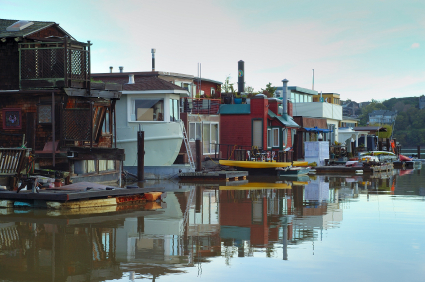 Since a number of my clients have asked me about property taxes and how they apply to floating homes, I thought I would create a helpful blog post outlining how property taxes are applied to floating homes in Marin County, California.
Sausalito, CA Houseboats/Floating homes
in Marin County are considered "real property" and taxed at the same rate as land based homes which is 1% plus parcel tax, school bonds, special assessments etc. However, depreciation is taken into account so the assessed value that the tax base is calculated on can be lower (sometimes considerably) than a land based home for the same sale price. They take into account age of property, location and a few other criteria.
Here is an example:
9 Commadore Heliport sold in July 201 for $420,000. They "enrolled" it or valued it, after calculating the depreciation, etc at $150,000 so that is what was used for the tax base.

There are also some rare exceptions with floating homes that are not parceled and don't have a parcel map. They are called Anchor outs and most are located in the Gates Coop. These are not taxed but again there are just a few occurences.

The assessors office will also provide a rough estimate of proposed taxes if there is a property that is of great interest.

To sum up...the property taxes may be slightly less to considerably less for a floating home vs. a land based home in Marin but each one must be individually assessed based on location, age, condition, etc.
Regardless of whether your interested in a Floating home, Condominium or a Single family home in Marin County, I would love to discuss your Real Estate needs with you. Don't hesitate to call me on my cell 415.602.4434.
Notes:
Information obtained from the County Assessors office
You should always consult a tax accountant for all tax related real estate issues