Fairfax Backyard Farmer -
Posted by Marin Modern Team on Monday, February 19, 2018 at 2:26 PM
By Marin Modern Team / February 19, 2018
Comment
There are some businesses and business owners that make you want to cheer for their success and do everything you can to promote their business. Fairfax Backyard Farmer and the owner Jim Normandi is one of the those.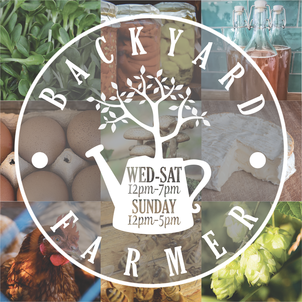 Backyard Farmer resonates on so many levels. Marin has a growing community of "urban" farmers and hobbyists who want to produce their own food, make their own beer, eat fresh eggs, become beekeepers and make honey…you name it. Jim, the owner, has found that sweet spot fostering community, providing education and workshops along with selling the tools, kits, guides and equipment needed to pursue whatever your heart desires. Go to the calendar and you will find workshops from homebrewing beer, beekeeping, home roasting coffee beans, making cheese, the secret yeast starter for sourdough bread, making Kombucha and hard cider and much more. Fairfax Backyard Farmer has brought together people with shared interests who have formed clubs, made friends and who meet regularly at the store to exchange information and tips on best practices.
Back to the beginning….I wandered down Bolinas Avenue in Fairfax last week checking out some of the new businesses. I was aware of Fairfax Backyard Farmer from a previous visit but this time I had the pleasure of talking with Jim. When I asked him a question about the honey bees that were in a frame in the store, he immediately engaged me with his enthusiasm and his knowledge of bee culture and habits. If you are looking for a hobby or would like to learn more about honey bees, owls, butterflies, raising chickens, or perhaps you need a gift for a nature loving friend for hobbyist farmer? You'll LOVE Fairfax Backyard Farmer.
Maybe I'll see you at Fairfax Backyard Farmer on Saturday, Feb. 24th from 9:30 - 12:30 for Coffee Home Roasting Workshop or Feb. 25th from 10-12 for Homemade Sourdough Bread workshop.
Janis Peterson, Realtor, Marin Modern Real Estate, 415-271-3109 or [email protected]