Ever Considered Removing Your Pool? We Did It & Here's How!
Posted by Marin Modern Team on Thursday, July 9, 2015 at 7:23:10 PM
By Marin Modern Team / July 9, 2015
Comment
Don't be a prisoner to your pool!
Backyard pools have a long tradition in the Golden State. But for many Californians the ongoing expenses and maintenance demands of pool ownership can heavily outweigh the pleasure.
The truth is that pools are a luxury and, as usual, there are costs attached. Even if you don't heat your pool, you're spending thousands a year on pool maintenance, chemicals and electricity to run your pumps. Plus, think of all the water that you're evaporating - which, during this serious drought, is a more painful loss to many. And if you have small children, a pool can be downright hazardous.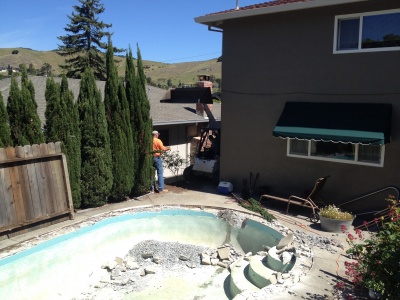 Why not take it out?
The big problem with pool removal is that it's expensive. You can't just fill a pool up with dirt and then landscape over it. When it rains, the water table under the pool can force the pool out of the ground like a boat - destroying your landscaping and possibly do damage to your home and/or your neighbors' property.
Many contractors don't want to undertake pool removal and bid accordingly. We got bids of up to $21,000 when we were removing our 15,000 gallon pool. But there are reputable contractors/engineers who'll do the job at one-third that price if you're determined to comparison shop. And, this onerous job can still be done right for a reasonable price. Cost can vary dramatically depending on your pool site and access to your back yard. 
The right way to take out the pool.
Once you've hired a good contractor, make sure you get a permit from your local city or county planning office for the construction. In our case, the City of San Rafael requires a drawing of the site to scale and a description of the proposed process, plus a fee of approximately $350.00. This permit process can vary, so check with your local planning office before you get too far along with your plans.  Also, it's a good idea to notify your neighbors to let them know that there might besome major noise during the de-construction phase.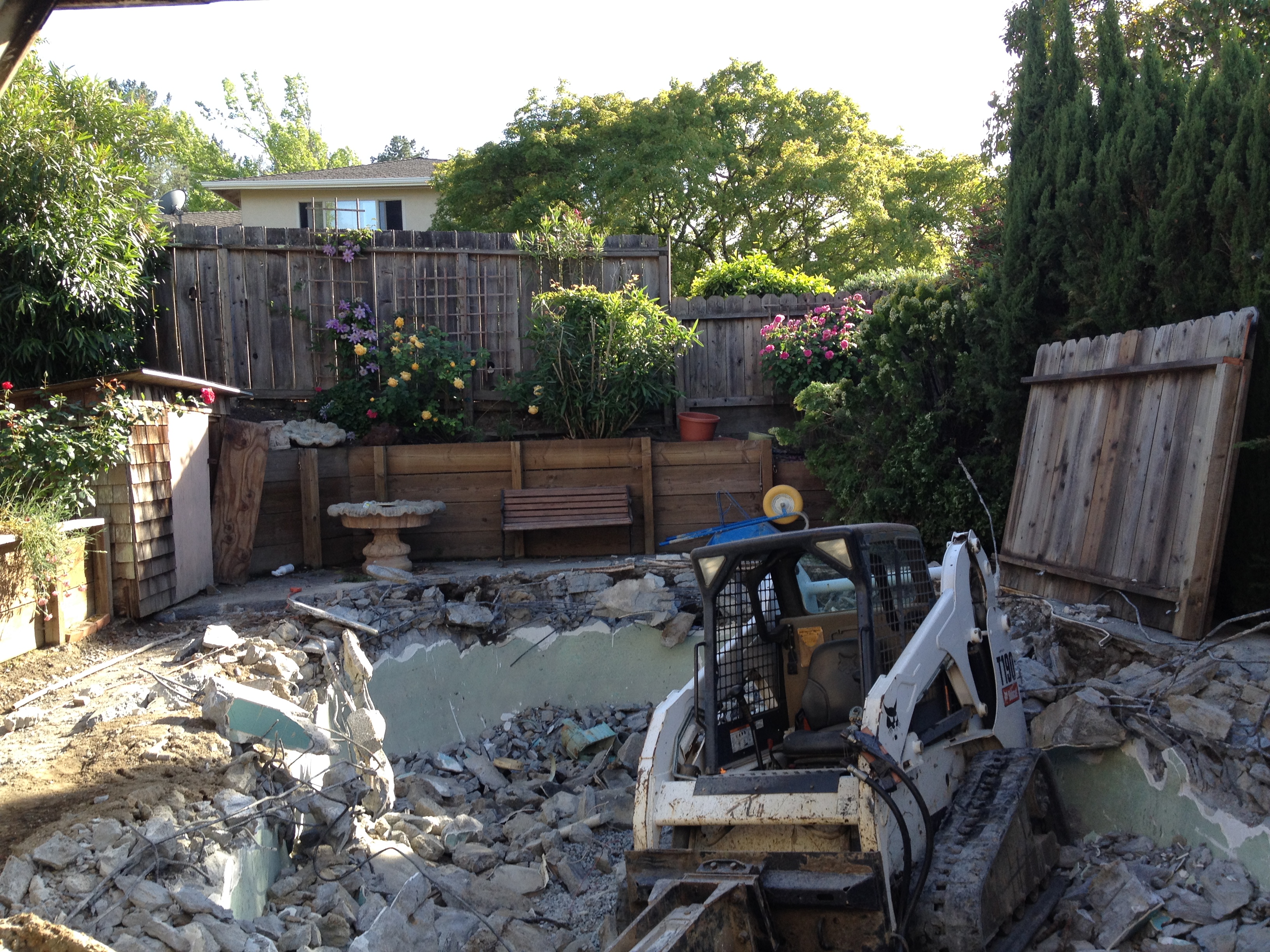 Did I mention this involves heavy equipment & a real mess?
After the pool has been emptied, the contractor will drill dozens of holes in the pool bottom for drainage, with a certain number being a minimum of 3" in diameter. The contractor is also required to take out at least 18" of the concrete and coping around the top of the pool.  An inspector comes out to take a look to at the work site once the wholes are drilled and insure they are sufficient for good drainage and conform to local building codes for pool removal.  After this, and a heck of a lot of jack-hammering (about two days in our case), they lay down a thick layer of drainage rock followed by the concrete pool coping and any surrounding concrete that they jack-hammered into pieces.
Only then will they truck in fill-dirt and level the surface with a slight mound to allow for settling. Then you can landscape or hardscape as you see fit: Bocce court, vegetable gardens, gazebo - suddenly you have hundreds of square feet of new yard to play with. It is strongly recommended that you let the earth settle for at least 60 to 90 days before doing any permanent landscaping.  Some landscaping professionals suggest waiting even longer before putting any permanent hardscaping on the site.
The many benefits of being a former pool owner.
For many, removing the pool and creating a level patio for eating outdoors, room for a small studio or a veggie garden with play spaces for big kids and small, can significantly increase your homes value. But for us, the real satisfaction comes from not hearing the pumps grinding away all day and having to throw away precious water that our community can no longer spare. And yes, we'll be plenty grateful for the wonderful tomatoes, squash and roses that we plant.
The joys of a rare midnight dip can't compare with the $30,000 that we're saving on the pool over the next eight to ten years and knowing that we're doing the right thing for the environment is a terrific outcome as well. 
I'll post some pics of the newly landscaped backyard in a couple of months for those that want to glimpse the before-and-after.  In the meantime, please call me with any real estate related questions or if you'd like a no-strings-attached assessment of your home's current value.  I can be reached at 415.596.0778 or at [email protected]