Eichlers in Oakland
Posted by Ken Fox on Tuesday, April 3, 2012 at 2:20:45 PM
By Ken Fox / April 3, 2012
Comment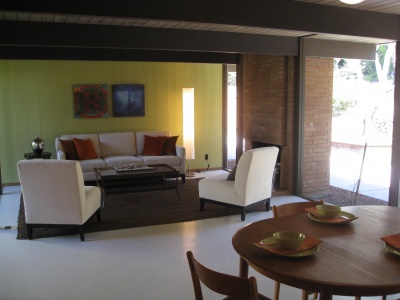 With fewer than 50 homes, the Sequoyah Hills development is one of the smaller tracts of homes built by Joseph Eichler in Northern California. Most of the homes in this tract are 3-5 bedrooms, in a range of floor plans designed by architects Claude Oakland and Jones+Emmons featuring atriums and courtyards and some with views of the City and Bay of San Francisco.
Given its neighborhood's size, only a few Eichlers sell each year, mostly in the $500,000-$700,000 price range.  In fact, last year, 2011, only two sold with an average sold price of $637,000.  This year, 2012, there was a repairable bank-owned Eichler that closed below $500,000.
East Bay Modern Real Estate currently has 8156 Coach Drive listed in Sequoyah Hills for $650,000 with Matthew Sorrenti and Renee Adelmann as co-listing agents.  Offer presentations are accepted starting today.
For more info on other Eichler neighborhoods, check out the Eichler home page where you can browse by neighborhood.