Eichler Value - Request Yours Now!
Posted by Marin Modern Team on Monday, January 23, 2012 at 7:58:18 PM
By Marin Modern Team / January 23, 2012
Comment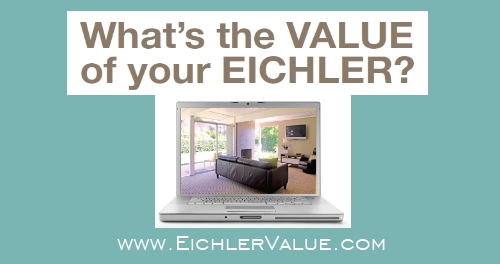 As a Realtor and Eichler Home Owner, I'm frequently asked by neighbors, clients, and friends about the current value of their Eichler home.
While there are many entertaining tools on the web that homeowners can utilize to estimate the value of their home, these tools fail to recognize and value the distinct characteristics of Eichler homes which can have a profound impact on determining the true market value for your home.
If you are an Eichler homeowner in Marin and would like to receive a free estimate of your home's current market value, visit  www.EichlerValue.com and request your home valuation online now.    
Additionally you can call me directly at 415-EICHLER (415-342-4537) for assistance with your Eichler real estate needs.
RENEE ADELMANN, Realtor & Eichler Owner
#1 Agent for Sold Eichler Homes (2007 - 2011)
Marin Modern Real Estate / East Bay Modern Real Estate / San Francisco Modern Real Estate