Eichler Event: June 15th 10am-4pm 2013 San Rafael
Posted by Hilary Davis on Friday, May 31, 2013 at 8:31:41 PM
By Hilary Davis / May 31, 2013
Comment
Eichler Event: June 15th 10am-4pm 2013 San Rafael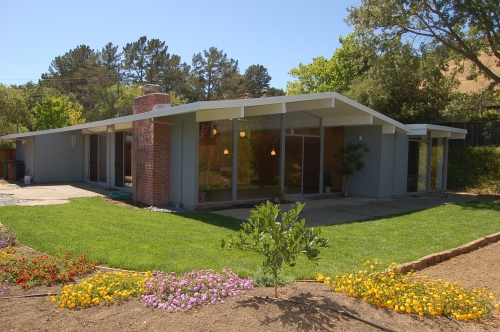 As an Eichler homeowner, I found a nice brochure was placed on my windshield today announcing an Eichler event taking place June 15th  in San Rafael.  About 50 years ago, Joseph Eichler had over 10,000 homes built throughout the San Francisco Bay Area, but now it can be hard to find replacement products for these mid-century marvels. Hudson Street Design of Marin is here to help by hosting an educational day to show off products perfect for our today Eichlers.
The day sounds like a ton of fun: BBQ lunch, live music by the Hot Rod Juke Box Band and cars from the 50's & 60's.  In fact, if you have a car to show off come on down. Votes will be collected on the cars and the winner will receive a $500 dollar gift certificate to HSD-Marin!
Catherine Munson, an original Eichler sales person, will talk about the history of Eichler.  I love hearing her share her stories, knowledge and inspiration-a real gem.  A panel discussion on renovating Eichlers will be conducted by Bill Hansell, local Architect.  A bunch of different representatives for all kinds of products will be there displaying their goods which you can check out up close-very handy!
Schedule:
10:00am-10:30am Open Reception, Meet Product Vendors
11:00am-11:45am History of Eichlers (Catherine Munson & Bill Hansell)
11:00am-1:00pm Hot Rod Jukebox Band
12:00-1:00pm Lunch & Networking
1:00pm-1:30pm Car Show (awards, root beer floats)
1:30pm-2:15pm Current state of the Eichler market (Catherine Munson & Bill Hansell)
2:15pm-3:00pm: Panel Discussion Eichler 101 (Bill Hansell, Keith Dotto, and Darren Reynolds)
3:00pm-4:00pm: Panel Discussion Renovating your Eichler (Bill Hansell, Keith Dotto, and Darren Reynolds)
I live in an Eichler and I am a realtor at Marin Modern Real Estate in San Rafael. We represent buyers and sellers for all types of homes. But we are especially well known for our in depth knowledge on mid-century modern homes.  In fact we span the Bay and into Wine County, check us out: www.MarinModern.com, www.SanFranciscoModern.com, www.EastBayModern.com , www.WineCountryModern.com .
In Marin, most of the Eichler's are located in northern San Rafael in the Terra Linda, Marinwood and Lucas Valley neighborhoods...beautiful area with great public schools.
Want to see the Eichlers currently on the market or find out more about these cool homes...call me I am happy to share.
Eichler home owner & San Rafael native. Hilary Davis, Realtor     415-235-3133    [email protected]