East Bay Eichler Update - Spring 2013
Posted by Ken Fox on Friday, March 29, 2013 at 12:17:39 PM
By Ken Fox / March 29, 2013
Comment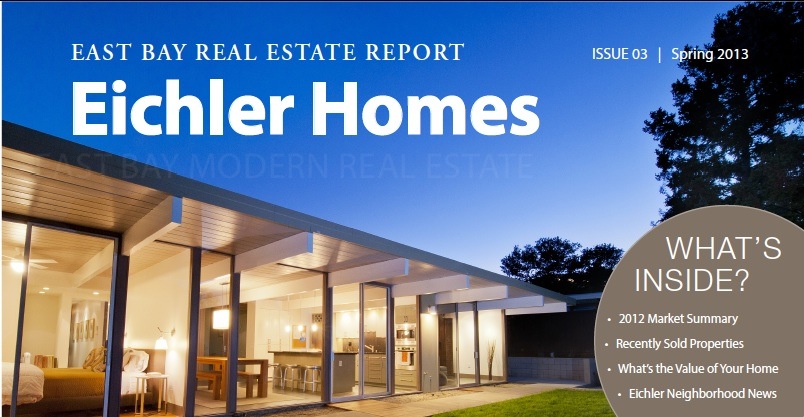 With 2013 in full swing, and spring is upon us, we wanted to provide East Bay Eichler homeowners with a summary of the market for Eichler homes.
A total of 37 Eichler homes were sold in the East Bay in 2012. Sales were steady throughout the year and there was a noticeable price increase across all East Bay Eichler markets towards the end of last year. As we enter the spring house-hunting season, there has been an uptick in buyers looking for Eichler homes.
Taking a closer look at Eichler sales for 2012, the majority (23) of sales occurred in Walnut Creek where Eichlers took an average of 19 days to sell at an average sales price of $691,605 (roughly 101% of the original list price). Three Eichler sales in the Rancho San Miguel neighborhood were bank-owned foreclosures. The highest price paid in Walnut Creek for an Eichler home was $850,000. Beyond Walnut Creek, there were seven Eichler home sales in Castro Valley, four in the Oakland Hills, and three sales in the Concord Eichler tract.

If you are thinking of buying or selling an Eichler home, look no further!  Current Eichler homeowners can visit
www.EichlerCMA.com
and use our Eichler Valuation tool to request a free, no-obligation, market analysis of your home's value.
Ken Fox, Eichler Realtor
510.999.0923 p