Downtown San Anselmo. Neve and Hawk Lifestyled Clothing and Gear
Posted by Fred Anlyan on Tuesday, September 13, 2016 at 2:11:40 AM
By Fred Anlyan / September 13, 2016
Comment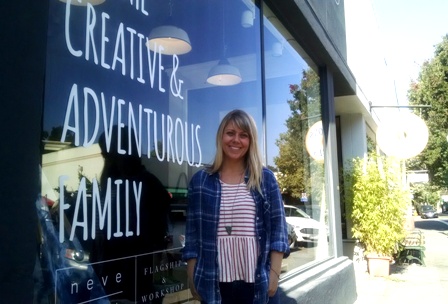 Just 3 months ago, on June 10th, Kris and Bob Galmarini opened their first brick and mortar store at 641 San Anselmo Avenue, in the middle of downtown. It was the physical expression of their desire to share their art and their dreams through a line of lifestyled clothing and gear designed and made by and for real people, kids, and families. The Brand, Neve and Hawk, named for the Galmarinis' two children Neve (age 9) and Hawk (5), had been selling well online for several years with a nationwide clientele, including wholesale orders to over 50 stores; in fact, only about 3 percent of sales have come from California!
The Galmarinis arrived in Marin about 3 years ago from South Carolina, initially living in Larkspur, but finding themselves drawn to and spending more and more time in San Anselmo.  Now their new store and their home are within walking distance of each other!
Beginning when they were still on the East Coast, at night, when the kids were asleep, Bob and Kris designed clothing that they liked and could use. It became popular through word of mouth, and they sold it to friends and acquaintences before  expanding to online sales. With their new location, they begin a new phase of their evolution and the children are now old enough and eager to help. With the physical space comes the opportunity to try new things, including teaching classes on silk screening, block printing, and more. Kris is at the store every day wearing all the hats that entrepreneurs expect to wear in the early years, and loving it! Bob still has a day job as Creative Director at a San Francisco software company but the stamp of his creative input has been important in the development, operation, and phenomenal progress that Neve and Hawk has enjoyed! 
Initial reaction to the store has been overwhelminly encouraging and positive, putting the startup well ahead of its business plan, and it's easy to see why. On a recent morning, when I met Kris at a local coffee shop, she was brimming over with energy and responding to greetings from all the regulars; she seems to know just about everyone, and folks gravitate towards her! She has plans beyond Neve and Hawk to help build community and enhance the downtown business district. She's been talking and working with friend and fellow San Anselmo business owner, Kacey Gardner at Tumbleweed Roam Free (see July blog post) with a fun event they are calling Gather San Anselmo. They envision the event as a once-a-month evening street festival with bands, games, etc. and hope to be able to begin as early as November of this year. More on this as plans progress. In the meantime, if you're in the area, stop off at 641 San Anselmo Avenue, check out the unique product line and say hi to Kris; you'll be glad you did!
And if you are dreaming about becoming a homeowner in Marin or you want to sell your home to move up, move on, or pursue another dream, call me for the help you need with real estate. I'm looking forward to hearing from you!
BRE 01336593
415-847-0602
fred@marinmodern.com