Downtown San Anselmo, Home of Georgi and Willow, and a Whole Lot More!
Posted by Fred Anlyan on Saturday, February 28, 2015 at 12:07:21 PM
By Fred Anlyan / February 28, 2015
1 Comment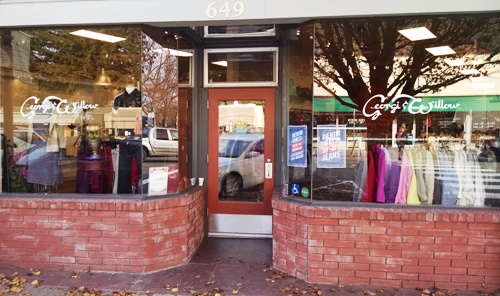 Georgi & Willow, located at 649 San Anselmo Ave. in San Anselmo is a Boutique branch of Goodwill Industries, featuring higher-end, designer, and popular brands and styles for bargain prices.
Recently found there: 2 Armani Exchange shirts for $15 each; a pair of Prada loafers for $10 (needed a small repair) and a new-looking Puma windbreaker for $20.
Georgi & Willow identifies itself on its website as "a 100% nonprofit resale boutique where your purchase has a purpose", noting that the proceeds from the store's sales "support the mission of Goodwill Industries----helping put local people in need back to work" The characters, Georgi and Willow, are fictional, but the imaginative folks at Goodwill have invented a fanciful backstory for how they met and conceived the idea to start the store. That and other fascinating reading material can be found on their website  http://www.georgiandwillow.org/home/mission/
San Anselmo is an extremely walkable town, and I walk every day, stopping in at G&W to check out their new offerings. Its welcoming atmosphere and friendly employees make it a great place to stop in and browse.
Lots of other recent changes to the downtown San Anselmo landscape include: 
Lococo's Pizza was sold some time ago and is now True North. The owner, Buck, has tried a number of formats and now offers craft beers and live music in addition to a modified  version of Lococo's menu. He also features items from the menu of San Anselmo landmark, Bubba's, down the street, which reportedly closed after an ADA complaint. And, it is rumored he now operates Cucina, the popular Italian restaurant and Wine Bar down the street. More on these in future posts. But, in the meantime, you may want to try them out on your next trip to San Anselmo!
For questions about real estate, call Fred Anlyan
(BRE 01336593) at 415-847-0602 or send him
a quick email at fred@marinmodern.com