Delicious! A Good Read During the Holidays
Posted by Marin Modern Team on Friday, December 11, 2015 at 1:35:42 PM
By Marin Modern Team / December 11, 2015
Comment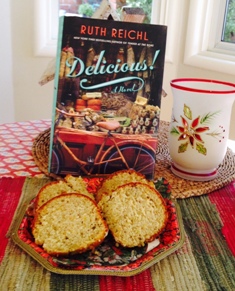 Need a page turner for your holiday travels or an escape from too much holiday cheer?  Delicious by Ruth Reichl won't disappoint! You don't have to be a foodie or even like to cook to enjoy the way Ruth Reichl can weave a good tale with food as a backdrop to the story. 
Loosely based on Gourmet Magazine where Reichl was the editor at the time it abruptly closed (Delicious is a fictional name for a similar magazine), the story opens with a young girl in the kitchen with her aunt making Gingerbread Cake.  This young girl, Billie Breslin, has an uncanny sense of taste and the ability to improvise in the kitchen to enhance this cake into no ordinary Gingerbread Cake. Fast forward to a grown up Billie going off to New York City to work as the assistant to the editor of Delicious.
When Delicious closes down on short notice, Billie is asked to stay on to respond to reader questions and the magazine's money back guarantee if a recipe doesn't turn out as advertised. Rattling around in the beautiful old mansion where Delicious is housed, Billie discovers a secret room and what feels like a treasure hunt linking old recipes to clues in letters from a young girl during World War II to the celebrated chef and food writer, James Beard.
Not only is this book engaging and a good read from beginning to end, when you do reach the end you're rewarded with the Gingerbread Cake recipe from the opening paragraph.  Hence the photo above taken in my kitchen.  I couldn't resist putting on my apron, assembling the ingredients, pulling out every bowl and utensil and turning my kitchen upside down to see if I could recreate what sounded so delicious.  It was good but all I can say, is that I'm no Billie Breslin (aka Ruth Reichl) when it comes to baking this cake!
May your holidays be filled with moments of quiet to read, cooking adventures real or imagined and an open house or two if you're preparing to buy or sell a home in 2016.  I will be holding 27 Mount Tallac in San Rafael Open this Sunday, December 13th from 2-4 p.m.  Please stop by for a taste of my Gingerbread Cake!
Janis Peterson, Realtor, 415-271-3109 or [email protected]