December 2016 Marin Real Estate Market Update & Outlook
Posted by Marin Modern Team on Tuesday, December 13, 2016 at 9:41 AM
By Marin Modern Team / December 13, 2016
Comment

The holidays are in full swing which typically means a seasonal slow-down in the real estate market however do these trends hold true in Marin County? Let's take a look at real estate sales trends thru November 2016 and also explore some other interesting trends and market facts:
Quick Market Snapshot
Vanishing Breed – The Under $1 Million Dollar Home in Marin
Median Price in Marin – Does Inventory Match Sales?
Luxury Market in Marin – Are Trends Developing?
Market Snapshot: Still strong
Through November of this year sales of single family homes are down about 7% from last year (ty = 1949 ly = 2093) and listings are down about 4% (ty = 2511 ly = 2612) still generally considered a seller's market. Median price of homes this year is $1,200,000 up about 8.6%. Median price for condos is $585,000 up about 4.7%. 77% of all listings this year were either sold or in contract within the first 2 months.
Vanishing Breed - the under $1 million dollar home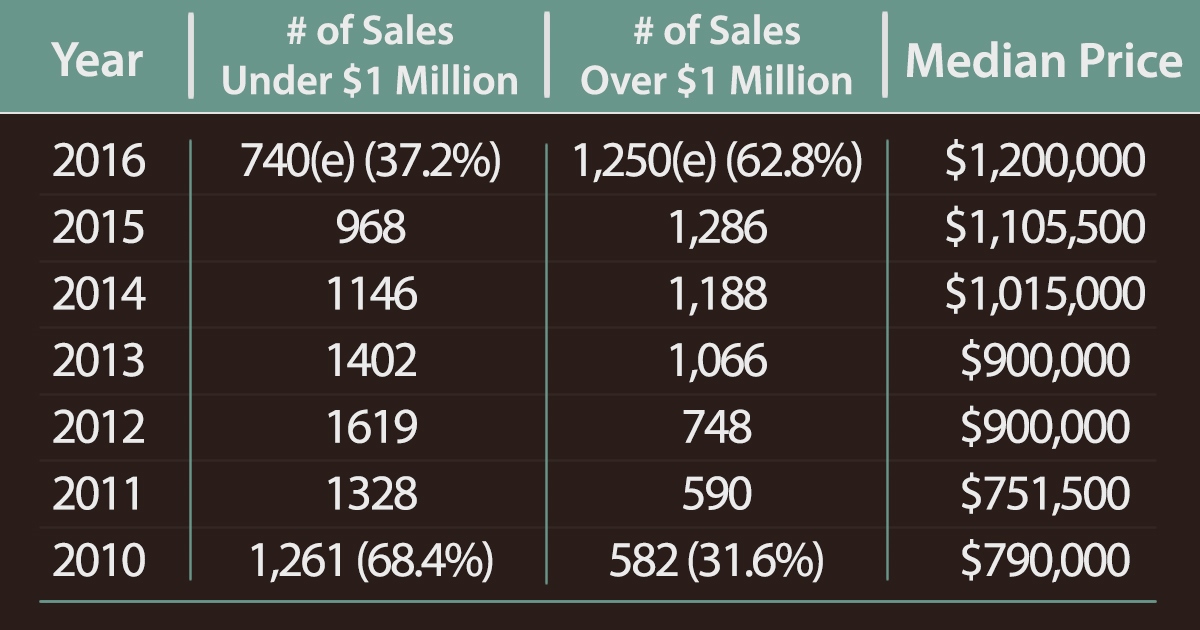 There are more endangered plant species (129) in Marin than there are homes under $1 million for sale. On December 1st of this year there were just 47 single family homes for sale in Marin that you could buy (active and pending release clause), and that was just a little more than 20% of the total available. A downward trend that has dramatically increased in recent years. In 2010, just 6 years ago, there were 405! Why? Simply supply and demand. Many of those 405 in the last 6 years have grown in value to over $1 million and not because of significant improvements. It's largely due to one thing - Location, location, location. Better schools, shorter commutes, proximity to municipal services, weather, low crime, low interest rates all contribute to that increase. There is clearly a seller's advantage in this disappearing market.
If you are committed to purchasing a home for under $1M, there are opportunities available and we would be happy to assist. Inventory changes daily and you can utilize our website to preview current single family homes in Marin under $1 Million. Contact us if you'd like to preview any of these homes - we are happy to assist!
Median Price in Marin - Does inventory match sales?
The Median Price of a single family home in Marin County at the end of November this year was $1,050,000. What does that mean? Simply that half of the homes sold in November were under and half were sold over that amount. So, in a perfect world the inventory of homes available for sale would match that ratio of 50/50. Unfortunately, that's not the case. At the beginning of December only 28% of the homes available to purchase were under that median price and 72% over. And that doesn't mean the selection is great because without new listings, the current inventory would be gone in less than two months. And that trend has been increasing at a surprising rate. In 2011 the median price was just $751,500 and has increased nearly 60% to today.
Luxury Real Estate Market in Marin - Are trends developing?
One definition: LUXURY, IN ITS NEW CONTEXT IS THE ENJOYMENT OF THE BEST IN LIFE. Webster's definition is something adding to pleasure or comfort but not absolutely necessary. So, putting a dollar value on that real estate market is open to argument, but let's just say $2,000,000 and up in Marin.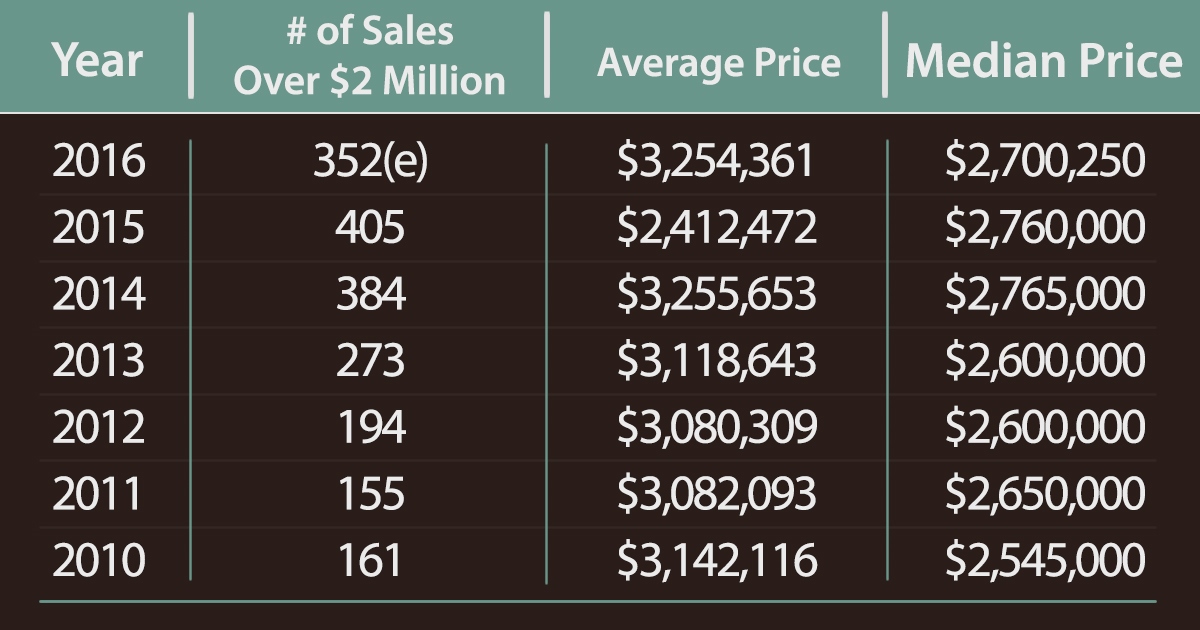 This year (2016) there will be about 350 sales of single family homes in Marin at that price or above, with an average price of over $3,250,000. (Median of about $2,700,000). That's about 17% of total sales. In 2010 there were only 161 sales which is understandable given the appreciation in the last several years. BUT, surprisingly, price increases have not kept pace with the overall market in this segment. Average price in the luxury market category increased by 3.6% and median price increased by 6.1% since that time. Compare that to overall average price increase of 44% and overall median price increase of over 50% for the entire market.
Preview luxury real estate in Marin.
In Conclusion
Whether you are thinking of buying or selling this winter or in 2017, our Marin real estate team would welcome the opportunity to assist you. Here are some tips for our clients and friends as we look ahead:
Suggestions for Sellers
If you're thinking of selling in the near future, plan ahead. Repair or replace what is needed. Get the work scheduled before the spring rush. Also, you may want to consider listing and selling in the Winter which is something we recently blogged about.
Consult with tax advisor your specific situation
Get recommendations and input from a Real Estate professional about the market in your neighborhood
Suggestions for Buyers
If you're thinking of buying in the near future, December and January are months when you'll face less competition from other buyers.
Consult with tax advisor your specific situation and benefits of homeownership.
Have a knowledgeable Real Estate professional be on the lookout for new (and soon to be) on the market listings to give you a buyer's edge.
Rates are likely to go up so meet with your lender for specifics and get the process started.
Contact us if we can assist you with your Marin real estate needs. Happy Holidays!