Dear Clients, I've donated your Christmas money to Heifer International....
Posted by Marin Modern Team on Thursday, December 13, 2012 at 8:35:50 AM
By Marin Modern Team / December 13, 2012
Comment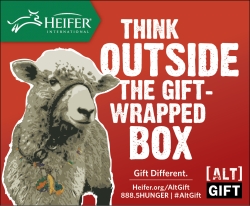 Every holiday season, I try to think of a way to say "Thank You" to my past and current clients for their support and referrals.
This year, frustrated with choosing individual gifts that require costly spending and postage, I took a good look at my holiday budget and decided to do something different.
There will be no chocolate-covered pretzels this year. Nope. Instead, you get a piece of a goat or a sheep.
I'm sorry, clients, but I've dontated your 2012 holiday gift to Heifer International. Heifer International is a non-profit humanitarian organization dedicated to ending hunger and poverty and caring for the Earth. Heifer currently provides livestock, trees, seeds and training in environmentally sound agriculture to families in more than 50 countries, including the United States.
I counted up all of my past and current clients and realized that there's getting to be quite a few of you! A whole flock's worth! So - in honor of each of you, I've bought "shares" in sheep & goats. You are all now are part-givers of a farm animal that will help needy families.
Thank You! I hope you will agree that this is a much more rewarding way to spread the holiday cheer. I tried to keep shares of animals together within families and/or neighborhoods. I will send each of you a card telling you which animal you participated in.
Please keep those personal referrals coming! The highest compliment you can give me is to refer me to neighbors, friends, co-workers, family, or anybody that needs a Realtor. My goal is to have enough happy clients so that upon the next holiday season, I can donate a herd of heifer!
Happy Holidays, everyone!
Rebecca Brooks, Broker Assoc. 415-717-8398 mobile/text or [email protected]