Cycling in Marin County, do you know the rules?
Posted by Lea Kuehnhackl on Friday, August 31, 2012 at 4:52:32 PM
By Lea Kuehnhackl / August 31, 2012
1 Comment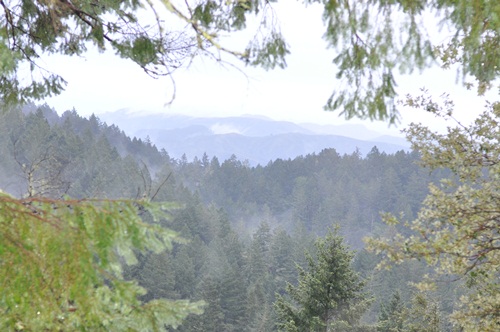 In my many years of living in Marin County, I have fallen in love with mountain biking.  I'm even willing to overlook the bugs and branches consistently hurtling toward my face on a ride, because the scenery (and very often the stunning view, as the picture above shows) is completely worth it.  But I have a hard time getting that same feeling on the road, sharing space with various hulking modes of transportation that don't run on the quinoa salad I had for lunch, not to mention my mild concern over spandex.  However, I might be the only one in Marin County deterred.  In fact, the Marin Bike Coalition conducted a survey that showed weekday cyclists in Marin increased 118% from 1999 to 2009.  So clearly the spandex demand is on the rise.  In fact, Marin is such a cycling community that it is used as the national model for the Safe Routes to Schools program, which promotes walking and biking to school as a way to increase the health of children and the community.
If you're going to get started biking to the gym, the local farmers market, or anywhere else, you should know some of the cycling rules of the road.  The Marin Bike Coalition has a section on Bicycle etiquette and common sense.  The top 10 list of tips for cyclists are:
Never ride against traffic.
Ride as near to the right as practicable*.
Stop at stop signs and red lights*.
Honor others' right of way.
Use hand signals.
With traffic, ride single file.
Be predictable; don't weave.
Follow lane markings.
Don't needlessly block the road*.
Use lights at night.
*--Note that the two most common offenses of bicyclists are running stop signs, and groups of cyclists blocking the road.
 More information on Bicycle etiquette can be found here:
http://www.marinbike.org/Campaigns/ShareTheRoad/EtiquetteIntro.html
Now that you know the rules of the road, dust off that bike hanging in your garage, and hit the trails!  There are multitudes of cycling tours in Marin like the Sausalito Bike Tour.  And if you're looking for a break from the hustle and bustle of civilization (and okay with the aforementioned bugs and branches issue), here's a map of some mountain biking trails in central and southern Marin.. 
Biking (mountain or otherwise) is such a wonderful way to spend the day outside, enjoying the beautiful vistas Marin has to offer!  And I'm pretty sure spandex isn't mandatory. 
Lea Kuehnhackl-Realtor 415-381-9394