Corn Mazes...It's Halloween Time!!
Posted by Pam Theroux on Friday, October 3, 2014 at 5:30:19 PM
By Pam Theroux / October 3, 2014
Comment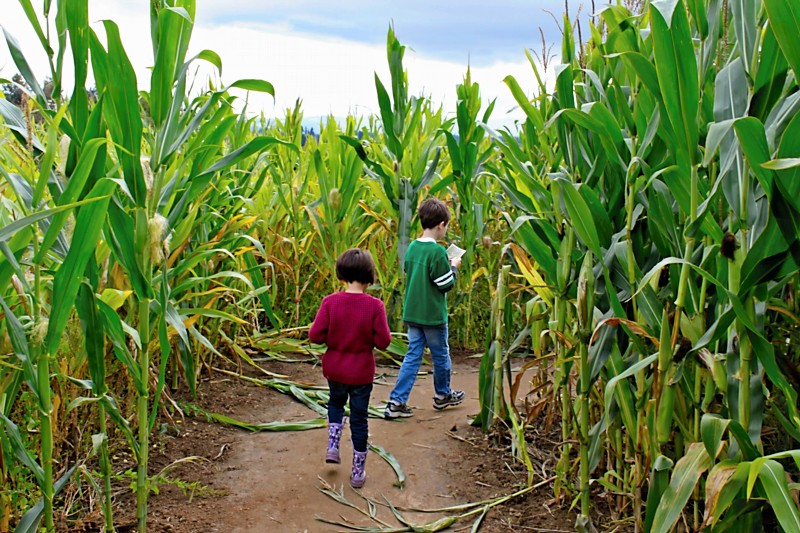 Just what is a corn maze?   Who invented such and thing...and why?
A maze or labyrinth, as it is sometimes known, is simply a complicated, irregular network of paths, which can be difficult to find one's way through.  So, a corn maze is simply a maze that it cut out of a corn field.
Mazes date back at least thousands of years to the time of Greek myths.  The pyramids have tunnels in them that are in the form of a maze or labyrinth.    Many archeological dig sites have maze designs as does ancient artwork, floor designs in homes, buildings and even street pavements.  In Scandinavia, there are over 600 stone labyrinths lining the beaches of the Baltic Sea....about 300 of them in Sweden alone!  Some believe that mazes were used for rituals and processions.
As time went on, formal gardens throughout European castles and palaces included garden mazes made out of lovely bush hedges. It is believed they were created to amuse the royal families.  The idea was to enter the maze, find the center and return to the beginning point.  One of the most famous European garden maze is the Hampton Court Maze, planted in the 1690's on the grounds of the  Hampton Court Palace, right outside of the central area of London, on the Thames River.  If you saw the movie, The Secret Garden, you saw an example of a small garden maze in the English countryside.
In the 1800's, mazes emerged as a popular source of entertainment in parks and other public locations.
Englishman, Adrian Fisher is considered to be the worlds leading maze designer.  He has many Guinness World records, design awards and has created more than 400 mazes in 23 countries.  His company, Maize Maze, has design plans that farmers can purchase.
Making a maze begins early in the year. In early spring, the designer (can be a farmer or a formal designer) comes up with a design and plants the field in the regular grid rows so that initially it looks like just another field.  Then, when the corn has grown to about 6' tall, the maze's pattern is cut out with a mower.   The remaining corn continues to grow tall, around the cut out design paths.  
In the U.S., since the 1970's, mazes have become very popular...especially during the Halloween season and most mazes today are found at many pumpkin patch locations!  Obviously, the best view of a full corn maze is from the air!  Corn mazes comes in many different shapes, signs and designs...some are customized to have a name or face in them, again best seen from the air.  Some mazes even have nighttime hours, where you can go in with flashlights! Night Mazes are a favorite of teens!
There are great corn mazes throughout the Bay Area this time of the year.  One of my very favorites is the Petaluma Pumpkin Patch and Amazing Corn Maze, located at 450 Stony Pt. Rd., in Petaluma.   The corn maze is open until 10pm on Friday and Saturday nights....fun!