Comfort-ize your floors. With cork!
Posted by Marin Modern Team on Monday, March 7, 2016 at 4:40:38 PM
By Marin Modern Team / March 7, 2016
Comment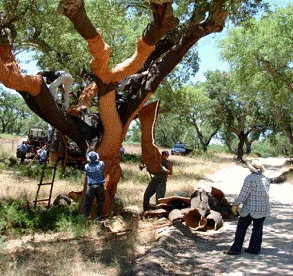 Quality hardwood floors and laminates can be a wonderfully hardworking and make for beautiful floors. But many people choose carpet instead, for its cozy warmth. Now you can have both features, thanks to a material that most people associate only with wine bottles and dart boards: cork.
The Comfort Underlay
No, you don't walk on the cork. You put sheets of it under the hardwood or laminate. It acts as a natural insulator, so your floors feel warmer in winter and cooler in summer. If you own a mid-century modern home, you probably have a slab foundation and this is one of the materials that can be used to provide a better walking surface beneath engineered wood flooring or laminates.  It gives a wonderful springy quality to your floor that will relieve stress in your feet, legs and back.

The Quiet Underlay
If noise is a consideration - as it is in so many condos, apartments and multi-family homes, the cork underlay will reduce the sound of footfalls in the room and for the folks living below. It doesn't absorb room noise, like carpet, but it makes the living space quieter.

It's Strong, It's Safe, It's Green
In spite of its springy texture, cork is so dense that it keeps its shape over the long haul, perfect for those high traffic areas. Cork is a natural product from a renewable source, so it's one of the most earth-friendly and sustainable products you can buy. Plus its anti-microbial qualities inhibit the growth of bacteria, mold and mildew. And, it's a non-toxic, fire-retardant material that adds a layer of safety to any space where it's installed.

Next month: More on affordable, easy-to-install cork underlay!

I'm eager to answer questions about cork or any other real estate-related topic, so please give me a call if I can be of assistance.  Text or call at 415.596.0778 or send me an email at [email protected]