Chaat Lotus & Spices Rivals Sol Foods for Delicious, Inexpensive Dining in San Rafael
Posted by Marin Modern Team on Sunday, November 6, 2011 at 10:48:07 AM
By Marin Modern Team / November 6, 2011
Comment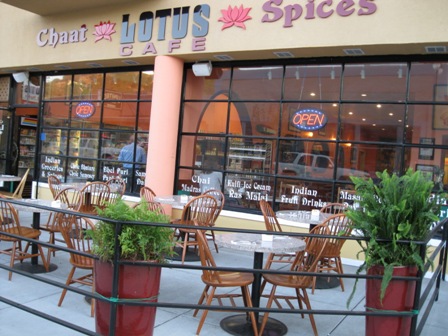 Earlier this week on a balmy fall evening, my husband and I walked the hills above San Rafael on our way to dinner on Fourth Street.  The beauty of living in the West End Neighborhood is the proximity to downtown San Rafael and San Anselmo.
Our walk took us up Spring Grove  where we took a trail that landed us on Upper Toyon in Kentfield and a beautiful sunset over Mt. Tam, then meandered down another trail to Gerstle Park and from there to downtown. We were hungry but not in the white table cloth dining sort of way.  We were in the mood for something more casual, less expensive, where we could have a glass of wine, sit outside and enjoy the last of the warm evenings.
We ended up at Chaat Lotus and Spices at the West End of Fourth Street.  It opened a few months ago and is "Indian street food or small plates of savory food."  We seated ourselves outside, ordered a glass of wine and asked the waiter for a recommendation.  Nothing on the menu was over $8.00 and it was all vegetarian.  We ordered the Lotus Special Dosa and Tofu Bhel to share.  I'm not a big tofu fan but if it hadn't said tofu on the menu I would have never known there was tofu in the dish.  It had a nutty, spicy flavor and texture and the Dosa was delicious and not heavy. We both felt totally satisfied but not stuffed.
Talk about a great value, healthy and delicious food plus they have take-out!  I'm glad Sol Foods is doing so well but if you get tired of waiting in line and want to expand your dining repetoire, come to the other end of Fourth Street and check out Chaat Lotus and Spices.   You won't be disappointed and may find a "new favorite" dining spot.
Janis@MarinModern Real Estate
Cell:  415-271-3109