Canal Community Garden
Posted by Marin Modern Team on Wednesday, October 22, 2014 at 3:56:23 PM
By Marin Modern Team / October 22, 2014
Comment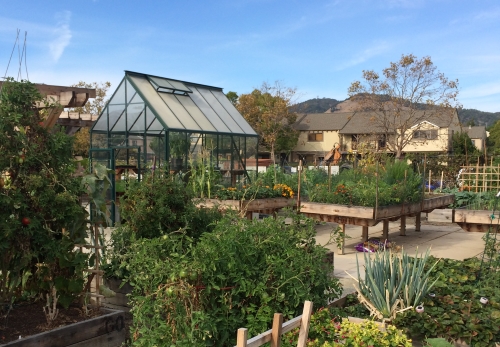 Located on the corner of Bellan Blvd and Windward Way, resides the Canal Community garden. Where once existed a vacant lot, a new life has spung up to service the needs of a diversified community interested in growing sustainable fruits and vegetables that are reminiscant of the culture they left behind.
This project grew out of a partnership between the Trust for Public Land and the Canal Alliance and now, two years later it has taken on a life of its own with classes in gardening for the community, 92 raised beds, a greenhouse, potting tables ,and composting bin. The new design uses sustainable, environmental features, including water saving dorught- resistant plants and a rainwater catchment system to irrigate the garden beds and educate about water conservation.
Many thanks the to the local the private donors including:
Planting Justice who built the planter and growing beds for the garden
Pacific Nurseries who provided all the trees, shrubs, ground cover, and a precious fig tree for the centerpiece
Marin Sanitary Service who provides free garbage service
Canal Alliance who oversees the operations of the garden.
If you would like to sign up for a planting bed just go to the www.canalalliance.com  website and fill out an application. They are assigned as they become available to people on the waiting list. What a way get your hands in the dirt and put a smile on your face.