Building a Prefab Home in the Bay Area - A How To Workshop
Posted by Ken Fox on Wednesday, April 4, 2012 at 11:38:27 AM
By Ken Fox / April 4, 2012
1 Comment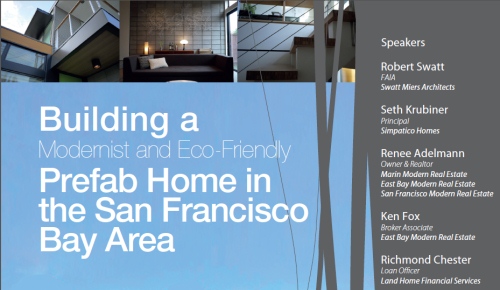 We are hosting an exclusive event for our clients later this month which is designed to educate attendees on the process of building a modern prefab home in the San Francisco Bay Area.   We've hosted a similar event in the past (with Michelle Kaufmann Design) which "sold out" quickly so we are sharing it with our blog followers early.
This event - Building a Modernist & Eco-Friendly Prefab Home in the San Francisco Bay Area - will be held on Saturday, April 21st.   Attendees will have an opportunity to hear from keynote speakers from Bay-area based Simpatico Homes, Swatt Architects, San Francisco Modern Real Estate, East Bay Modern Real Estate and Marin Modern Real Estate.   Additionally confirmed attendees will have an opportunity to actually tour a Simpatico model home in Emeryville.
Seating is extremely limited and reservations are required.   If you are interested in attending this very special event (at no charge), you can find additional details and REGISTER ONLINE now by visiting the registration page:

http://www.eastbaymodern.com/modern-prefab.php

Thanks and we hope you are able to attend this exclusive event sponsored by our company, the leading authority on modern and mid-century modern homes, lofts and condos in the San Francisco Bay Area.   Feel free to contact us if we can assist you with your Bay Area real estate needs.