Bodega Bay, California - Weekend Getaway
Posted by Cari Gennarelli on Wednesday, June 20, 2012 at 5:36:06 PM
By Cari Gennarelli / June 20, 2012
Comment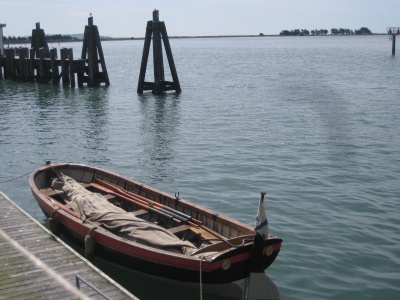 Bodega Bay, California - Weekend Getaway
Bodega Bay, California on the Sonoma Coast is about 27 miles West up Highway 1 from Marin's Tamales Bay. Both Bays are worthy of a weekend visit but for now, lets venture past Tamales, past Dillon Beach and onto Bodega Bay.
According to my paper placemat from the Tides Wharf restaurant, "Bodega Bay was discovered by Don Juan Francisco de la Bodega y Quadra while exploring the coast in 1775 on the Schooner Senora".
The early days in Bodega served as storage for grain and agricultural products shipped in to the Bay Area and the home to the first commercial fishing boats. A seafood restaurant was established on the Tides property in the 1920's and in 1963 the infamous Alfred Hitchcock movie, The Birds was filmed there. That was the single creepiest movie I ever saw as a kid. I could literally feel those birds tangled in my hair. Ick!
Present day Bodega Bay definitely has a miniature Fisherman's' Wharf 1960's feel. From the tan tile and towels in the Tides Inn to the preserved Italian Seafood restaurant complete with fried seafood and a salty bartendress. I spend my teens at Fisherman's wharf, steeped in the culture while cleaning tables at a tourist centric Italian owned seafood restaurant so I felt right at home in Bodega Bay.
The restaurant we ended up in for dinner was packed! Staff was not prepared for the onslaught of visitors for the dueling events so we ate at the bar. Our salty server made a perfect dry Chopin Martini. The Grilled Halibut was tender and flaky and the crab in my Louis tasted like it was caught, cracked, cleaned and served within hours. Simple, delicious and fresh seafood.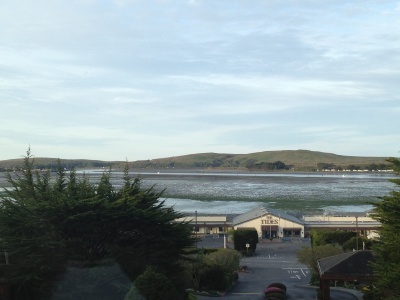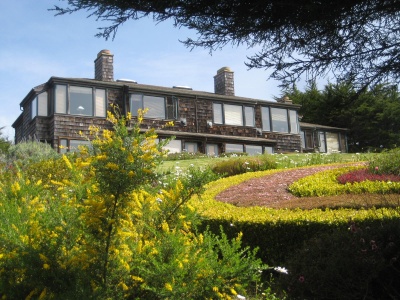 The Inn at The Tides, while it had a dated interior was comfortable and updated with modern amenities. The luxurious bed with 6 fluffy pillows made for the perfect spot to catch up on email while drinking my coffee and gazing at the bay waters.
So after a seafood dinner and solid nights sleep, what do you do in Bodega Bay for a weekend? There are several planned events throughout the year so if you are planning a trip check out the visitors websites. During our time, there was a boat show and the 200-year anniversary of Ivan Kuskov's return to Port Rumiantsev, which culminated with a canon fight between two historic sailing ships.
It also happened to be opening day for Salmon Fishing (which is the reason we were there - well not me so much). While the men folk rose at the crack of dawn to (hopefully) catch our dinner I relaxed at the Inn, visited the Tides Wharf for my complimentary breakfast and then explored the area.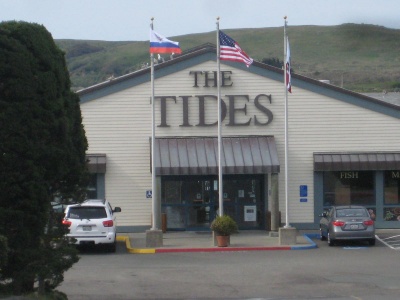 First, the restaurant for the Inn is across the street and sits just behind the gift shop and grocery store complete with giant bottles of Vodka, fresh seafood and homemade cannoli's. Brilliant placement from a marketing standpoint.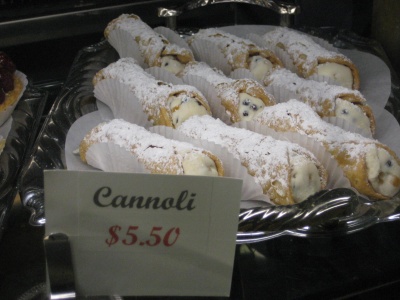 My server was very friendly and informative. The restaurant has been run by the same Italian family for 73 years (again - flashbacks of my fisherman's wharf days) so when I asked for a soy milk cappuccino, the waitress said they are slowly working on the modernization of the menu but they do have wheat toast now! I don't happen to love Soymilk but am allergic to dairy so I ordered a double espresso, which was superb!
My breakfast did not disappoint! Standard greasy spoon fair complete with hash browns. I do admit I only ate the crispy outer layers but they were delish! While I read the history of Bodega Bay on my placemat, sipped my creamy espresso and ate my eggs I was treated to an eye level view of the bay. The restaurant is lined with picture windows so it feels like you are on the bay. I was inspired as I jotted down notes for this blog.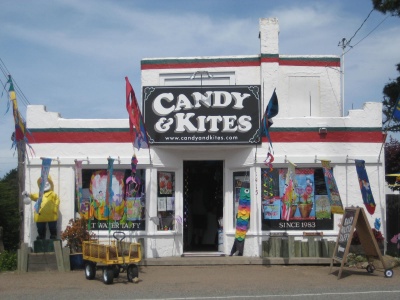 After my history lesson and complimentary breakfast I jumped in the car and ventured up the coast. I found an adorable Kite and Candy store that had all the candy and toys I loved as a kid. Zots, Balsa wood airplanes, Jacks and Salt Water Taffy. After filling a bag full of treats for my family I drove further up the coast and found a string of sandy beaches full of surfers, kite flyers and beach walkers. I passed a few campgrounds (note for future trips).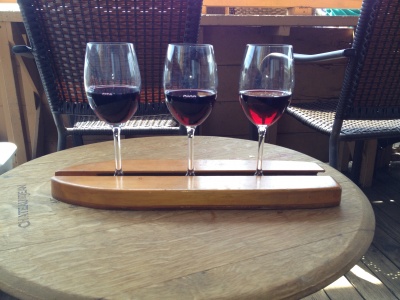 After getting my fill of surf and sand I drove back towards the Inn, checked out and landed at the Gourmet Au Bay Wine Shop. 
I had no idea when the fishermen would return so I bought a few bottles of wine for later and then ordered a flight of Dirty Angry Reds and settled in on the covered porch with my book, overlooking the bay. I had a great view of the battling sailing ships and was able to sip my wine, read and relax.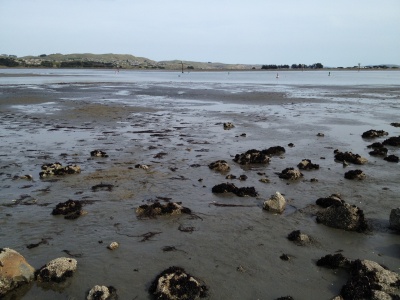 There really was so much more I could have done. I read about a Spa down the road and the Russian Fort Ross but the afternoon sun was getting low so I drove over the Bodega Harbor boat dock to wait for the men to return from the sea.
We definitely could have stayed another night but our 24-hour trip gave us both a good taste of what Bodega Bay has to offer. I could definitely picture buying a vacation home there and there were plenty of For Sale signs scattered down Highway 1 and up the side streets. The Bay and Ocean views are spectacular and a great place if you like to fish, surf or hang out on the coast. To get there you can take Highway 1 all the way from Marin or cut through Petaluma (which is quicker). It's about a 90-minute trip from SF and perfect for a weekend getaway!