Blu Homes - Green Alternatives Await you in Marin County!
Posted by Ken Fox on Tuesday, September 4, 2012 at 9:24:57 PM
By Ken Fox / September 4, 2012
Comment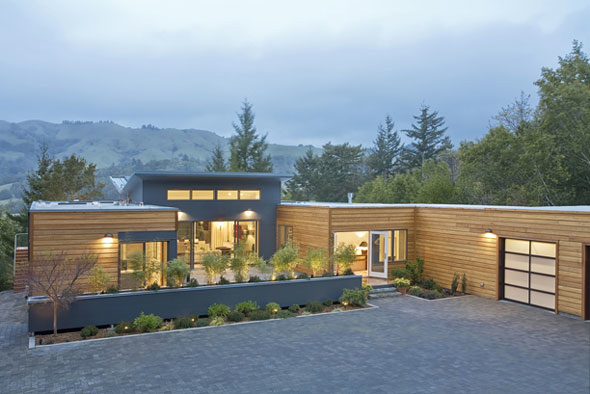 My interest in modern prefabricated homes goes back to 2005, when Michelle Kaufmann showcased one of her first prefabricated homes at Sunset Magazine's headquarters in Menlo Park.  The home was designed for Sunset as their Idea House for 2005 and it was named the Sunset Breezehouse. Since then, modern prefabricated green home and modular pod companies have been popping up all over the world, but Michelle Kaufmann's designs seem to be the model of success for people who truly want a green prefabricated modern home.  
A few years ago, a team of amazing thought leaders from RISD and MIT came together with Michelle Kaufmann to take this cutting edge architecture to another level.  The company that formed out of this think tank is Blu Homes. 
Recently, Meredith Weems (Sales Associate) and Scott Dergance (Senior Product Architect) of Blu Homes came to our Marin Modern office to deliver a presentation about their products.  They showed us 7 different designs ranging from 1,000 sqft homes to 2,500 sqft homes.  Some of the designs are truly modular - like putting a few lego pieces together and connecting the pieces with breezeways.
These modular homes are built at the factory, folded up, put on a regular size semi truck, then unfolded and installed at the home site.  Bathrooms, kitchens, windows are already installed in these folded modules when they get placed on the truck.  It's really amazing to see how these homes are put together.   The products are eco-friendly, high in quality and built to last a lifetime.
The designs are modern. Most models have floor to ceiling windows and vaulted ceilings that flood these homes with natural light and flooding natural light and provide a seamless experience between your nest and nature.
You really have to see this for yourself.  Blu Homes partnered with Sunset Magazine to bring you this year's Sunset Idea House, Blu's updated, more spacious version of the iconic Sunset Breezehouse, which was first debuted by Sunset magazine in 2005. This "next generation" Breezehouse was built on a breathtaking site in the heart of California's Sonoma Wine Country.  This weekend will be the last time to view this showcase home.  For tour information, visit the Blu Homes Sunset Breezehouse page.
We receive many inquiries on our web site about modern, prefabricated homes.  Most inquiries come from buyers that believe purchasing land and building a modern green built prefabricated home on that land is less expensive than buying a 'used' home.  In some areas across the United States, that is probably true, but in the Northbay this idea is thrown right out the window. 
Given the scarcity of available buildable land and the hilly topography of the Northbay's geography, finding a parcel suitable for an easy pre-fabricated installation is a huge challenge.  Considerations include: flat or gently sloped lot (reducing the amount of money spent on an elaborate foundation), access to the property (a big semi-truck will need ample space to make the delivery) and site improvements (bringing utilities to the lot and building necessary roadway/driveway). 
How much should you budget to build one of these homes?  Realistically to build one of these homes in the Bay Area from start to finish a buyer needs a budget of at least $1M. Prices for these homes start at 345k and go up to 550k (plus you can keep adding modules = $$).  The price includes design fees, delivery to the site and installation at the home site.    Site improvements are not included in the price of these homes (ie., roadways, utilities and foundation) and they could vary widely.  You should also budget another 350k minimum to purchase the right parcel of land. 
The process involves 5 important steps. 
1.     Find a suitable parcel of land  with the guidance of your Realtor
2.     Finance your home with a lender specializing in this type of construction
3.     Chose your home
4.     Personalize your home
5.     Build and deliver
With the right team to guide you and a realistic budget, you could create your own Blu 'Dream' Home.
If you are considering the purchase of land in Marin for a Blu Home, feel free to call me.