Beautiful Lake Merritt near Downtown Oakland
Posted by Marin Modern Team on Thursday, May 14, 2015 at 6:26:51 PM
By Marin Modern Team / May 14, 2015
Comment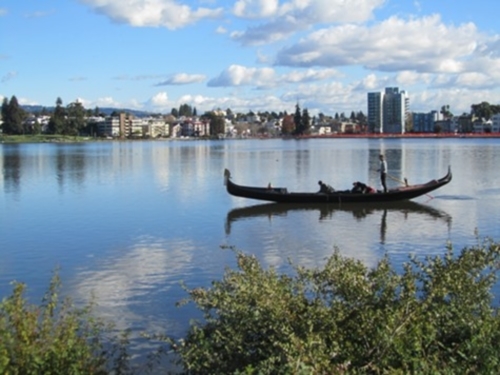 Last Sunday on Mother's Day, my son and I didn't have plans other than to just hang out together with our Chihuahua Terrier, Dhino.It was overcast earlier in the morning but about 2 o'clock in the afternoon, the sun came out and it was a beautiful day.We wanted to take Dhino for a walk and I realized my son, who lives in San Francisco, had never been to Lake Merritt.It's been a favorite of Dhino and mine since the grand re-opening celebration of the renovation of the walkway in June, 2013. So off we went for a wonderful day walking, meeting lots of other dogs, joggers and the great eclectic microcosm of folks that make up the population of the East Bay.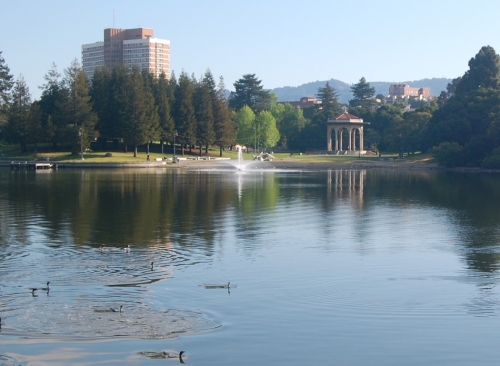 Lake Merritt is a 3.4 mile, heart shaped salt water lagoon located right in the middle of Oakland surrounded by the Adam's Point, Lakeshore/Grand neighborhoods just a few blocks east of Downtown.It is home to over 100 different types of birds and established in 1870, was the first wildlife refuge in the U.S.There are a nearly a dozen different flower gardens, the popular children's playground Fairyland (it was said the Walt Disney visited for ideas before he opened Disneyland), boating and sailing, and even lawn bowling. The path around the lake also has a jogging track, as well as new widened sidewalks for walking.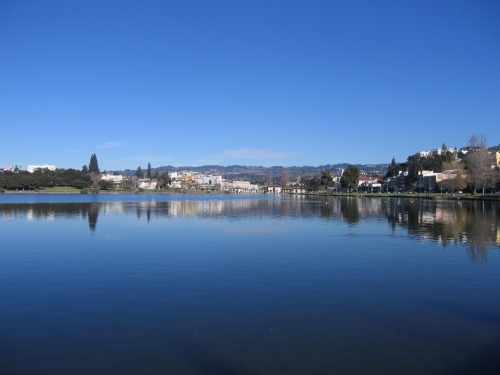 The recently renovated Lake Chateau is a wonderful bar and restaurant with out door dining, a great happy hour, providing a much-needed refresher after your long walk around the lake, of course, when you go without your dog.
The lake is bordered by Grand Avenue and Lakeshore Dr. surrounded by many exclusive luxury condo buildings including the iconic Bellevue-Staten building, an 1929 historic art deco building, nicknamed, the "Ghostbusters Building," with apartments selling for over $1million. On the newer luxury side is The Essex, a high rise where every unit has sweeping lake and city views.A bit further east is Lakeshore and Crocker Highlands, which has the best schools in Oakland, and some of the most expensive but truly grand homes in the East Bay. But the Adam's Piont and Haddon Hill neighborhoods have plenty of affordable condos all of which are close proximity to Lake Merritt BART. The area is also home to some of the finest restaurants in Oakland; Sidebar, Boot and Shoe Service, Camino, just to name a few. The Lake Merritt BART station is just a few blocks away.
If you're looking to buy or sell in the neighborhood, don't hesitate to call me at 510-350-8575 for a free market consultation.