Beast Crawl 2015 Festival
Posted by Marin Modern Team on Thursday, July 9, 2015 at 12:27:42 PM
By Marin Modern Team / July 9, 2015
Comment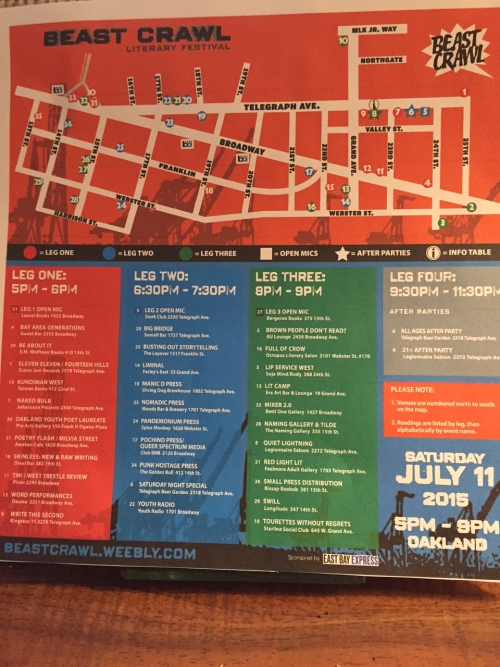 Looking for something totally different to do this Saturday night?Look no further than the 4th Annual Beast Crawl Festival in Oakland's trendy Uptown district.
What is Beast Crawl, you ask?The first of its kind in the Bay Area, it is a literary festival featuring over 100 writers, over a 3 hours span reading their works at local galleries, bars, restaurants and store fronts. Each "leg" of the Beast, lasts one hour with at least 12 reading to choose from.Former venues are Telegraph Beer Garden, Awaken Café, Farley's East, Era Art Bar & Lounge and The Legionnaire Salon.
You can set your route and pick readings ahead of time by checking the map above or at Beast Crawl Map, for listing of all venues, curators, legs and after-party locations.
Have a blast at Beast Crawl this Saturday, July 11 starting with the first leg at 5pm!See you there!