Bargain bookstores in Marin, where are they?
Posted by Lea Kuehnhackl on Saturday, November 24, 2012 at 10:57:29 AM
By Lea Kuehnhackl / November 24, 2012
Comment
So I think it's time to talk about the elephant in the room.   I know, I know, denial is so much easier, not to mention way more fun, but it's time to get real: fall is pretty much over.  I suppose there's really no good way to cope with: the rain, getting up in and coming home in the dark and the cold weather; where you can see your breath in the morning.  While we can't bring back the days of sun, I think it might ease the transition if we made peace with, and embraced, the rapidly approaching winter. 
One of my favorite things about winter is how it's all of a sudden totally acceptable to spend your afternoons lazily curled up on the couch with a good book, rather than doing anything on your to-do list, using the weather as a convenient and wonderful excuse.  And, in my ongoing search for good books, I have stumbled across a truly amazing Marin secret.  I have recently discovered the Friends of the Library bookstores scattered all about Marin.  Now this might not seem like that big of a deal, but to any dabbling bibliophile, the Friends of the Library bookstores are a truly beautiful thing.  Let me explain; these are bookstores that are run by the Friends of the Library Chapters, whom are community members that have taken an interest in the health and growth of each library;  where donated books are sold for very low prices, and the proceeds are then used to support the library and its many programs.  The books are screened, so they're all in great quality, lots of trade paperback and hardbacks, and most are around $1-$2 each.   Now you possibly are thinking, "Oh, but those are probably books that no one has ever heard of or would want to read".  Au contraire, take a look at the stack I scored for $22 total.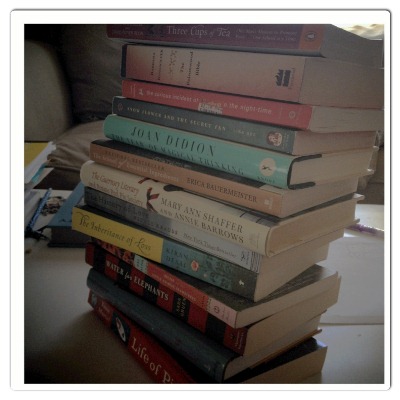 Those would be 13 well known books in great condition, purchased at the Friends of the Sausalito Library bookstore.  Sorry for the photo, I know it's a little hard to see some of the titles, but included in the stack is Water for Elephants, The Poisonwood Bible, The Curious Incident of the Dog in the Nighttime and Three Cups of Tea, among others.  Convinced? 
If you are interest in partaking in a value driven book, below are the locations of the Marin Friends of the Library:
Sausalito (above the library)
420 Litho Street
Sausalito 94965
Mondays 9:00am-5:00pm
Wednesdays 10:00am-1:00pm
Saturdays 10:00am-1:00pm
http://www.ci.sausalito.ca.us/Index.aspx?page=731
Novato
1608 Grant Ave, Novato
Monday, Tuesday, Wednesday, Thursday, and Saturday: 10-4
Friday: 10:00am-7:00pm
Sundays: 12-4:00pm (Bargain Sunday is 12-4, the first Sunday of the month)
http://marinlibraryfriends.marin.org/BookPlace.html
 San Rafael
1016 C Street, San Rafael
Tuesday - Saturday  10:00am-4:00pm
http://srpubliclibrary.squarespace.com/friends-bookstore/


Mill Valley
Every 3rd Saturday of the month visit the Friends Book Store located at the side entrance/lower level
Next Mill Valley sale is December 15th  9am-4:30pm
http://www.millvalleylibrary.org/Index.aspx?page=302
I'm not sure about you, but I'm definitely feeling a little better about combating the perils of winter with a book.  I'm still not pleased about the shorter, colder days, but good books to curl up with, at great prices, AND supporting the library all at once?  Seems like an acceptable consolation prize to me. 
If you have any questions regarding Real Estate in Marin, Napa or Sonoma Counties please feel free to email [email protected] or call me.
Lea Kuehnhackl-Realtor 415-381-9394