Backyard Chickens in Marin = eco-friendly benefits!
Posted by Hilary Davis on Sunday, May 22, 2011 at 5:26:47 PM
By Hilary Davis / May 22, 2011
7 Comments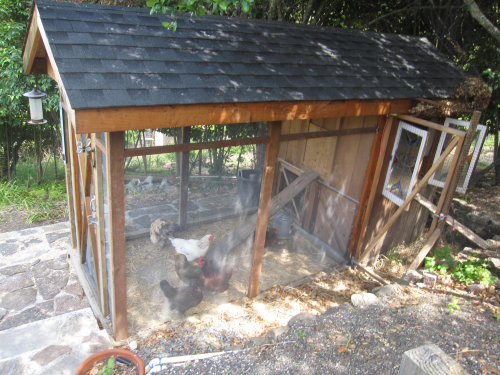 The backyard chicken craze continues to grow in popularity throughout the Marin County suburbs. In fact, there are forums and yahoo groups that cater just to backyard chicken enthusiasts!  However, before you rush off and buy some cute baby chicks, it is best to do a little research to make sure you (the zoning of your home, plus your neighbors) and backyard chickens are a good match. My Pet Chicken Guide to Chicken Care is an excellent place to start your research.
One of my San Rafael buyer-clients has just embarked on this hobby. Fascinated by it all, I wanted to see her little fluff balls and their newly erected coop in person. So, I headed over to her house and she gave me the lowdown. Here are just a few good reasons to have backyard chickens.
These feathery friends have real merits that go beyond producing ordinary eggs
These eggs are super fresh, beautifully colored, highly nutritious and delivered daily! Egg colors are determined by the color of the hen's ears (who knew) and can vary widely from brownish to pink, red, orange, lavender, blue and greenish. Feed them only organic feed and keep a pesticide free yard for them, and you have nutrient rich organic eggs!
Move over Rover let Ms. Hen strut over
Chickens make great pets for the entire family. They provide an excellent opportunity for children to learn about pet responsibility and nurturing combined with sustainable living practices. Plus, each chicken has a unique personality which will win you over.  Please make sure your kids know how to handle them correctly so the chicks aren't stressed out.
Going green in the garden
No more pesticides, dumped leftovers and food scraps, or costly fertilizers.  Your backyard chickens love to range freely and eat all the nasty garden pests so you don't need to use poisonous pesticides. They also eat almost everything we do, therefore most food scraps and left overs can be fed to them.  This reduces the amount of food waste going into our landfills, which in turn has a multitude of eco-friendly benefits! Equally as important, all this eating leads to nitrogen rich compost "black gold", a fertilizer that's the envy of all your gardening friends (sharing is considered good practice).  Chickens may devourer your vegetable garden; it is important be mindful as to where you let them range.
Having backyard chickens can be fun and rewarding for the entire family.  Researching and understanding the full scope of what's involved will lead to a more enjoyable experience for all.  Chickens come in a wide variety of colors and sizes as do the hen houses they live in. Have a great time selecting what's best for your needs.   From purchasing the chicks and the coop to everything else you need, great resources are plentiful to help you every step of the way with your new hobby.
And, when you want a great resource to help you with all you Marin Real Estate needs, please give me a call.  As a lifelong Marin resident, I find true joy in helping my clients accomplish their real estate dreams.  Hilary Davis, Realtor Advisor (415) 235-3133