Are You Considering a Floating Home Purchase? Part 3
Posted by Cari Gennarelli on Tuesday, February 16, 2016 at 1:43:37 PM
By Cari Gennarelli / February 16, 2016
Comment
Are You Considering a Floating Home Purchase: Part 3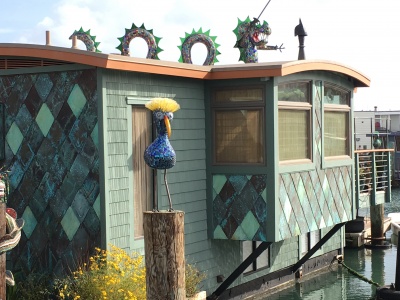 Congratulations! Escrow has closed and your Realtor has just handed you the keys to your very own piece of waterfront heaven! However, your home is so much more then just a waterfront home. You are in the water. Surrounded. Floating. You are one of approximately 425 lucky owners of a Sausalito, CA Floating home.
My three-part series on Floating homes is a reality check for the 100's of dreamers out there considering a floating home purchase.
Floating homes have been a part of my life since I was a little kid. My mom would bring us to visit friends on the docks and when I walked onto the boats I was mesmerized. Seriously, a home that is a boat, floating in the bay? There was nothing better. It was a magical world with koi fish ponds, portholes to the water and super 60's décor! I have a deep and personal love of the Sausalito floating homes and have always wanted one of my own. Someday I too will realize my floating home dream and can hopefully help you realize yours!
The Reality of Owning a Floating Home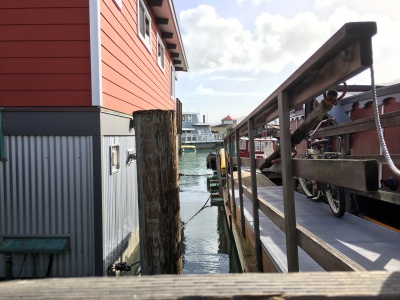 Your new home is in the water and subject to additional maintenance and prevention measures not associated with other types of home ownership. You have posts and tie ups keeping your home in place. A hull that will need regular inspections and maintenance and an exterior that is exposed to the harsh salt water conditions. The inspections you get during the purchase process will be performed by floating home specialist. They will be able to provide maintenance information on the processes that they inspect. Listen and take note.
If you need to do maintenance or construction always consult with and hire contractors that specialize in floating home construction. Your realtor will be able to refer the appropriate people and as you get to know your neighbors they will become excellent resources for handymen and contractors. There is a finite group of contractors that work on floating homes so you might have to adjust your timeframe based on availability.
Simplifying your Lifestyle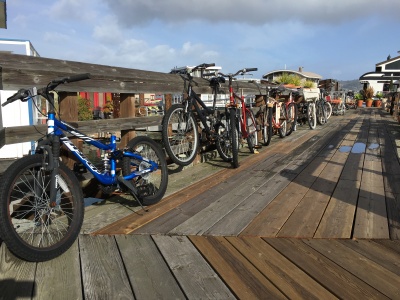 Living on the water tied to a dock makes every day tasks a bit more challenging. You no longer have the luxury of a garage or parking right outside your doorstep. Think about coming home from a trip to Costco or buying a new piece of furniture. Yes...you will be doing more schlepping.  
During inspections on a floating home sale I watched a couple come home with groceries. They had a shopping cart full of bags and were navigating down a metal ramp to their home. What made the whole thing tricky and a bit precarious was it happened to be low tide so the pitch of the ramp was about 45-50 degrees steeper then it would have been at high tide.
Bikes become a common and convenient mode of transportation for getting around town and doing small errands. It's a short bike ride to the Molly Stone's Grocery Store and several restaurants. A bit further to get to Calendonia where you can enjoy some of the best sushi in the Bay Area at Sushi Ran. Continue down Bridgeway hit quaint coffee shops, bars, restaurants and the Sausalito Ferry.
The more compact living and proximity to transportation will likely force you to simplify your lifestyle - which is a good thing! You are trading convenience for a peaceful retreat and front row seat to nature from inside and outside your home.
Pets & Floating Homes
Pets are a big part of the lifestyle on most of the docks. However, each dock has its own pet policy. If you have pets have your realtor check on the pet policy by dock before pursuing any homes. Most of the docks allow dogs and cats. Some just cats and others no pets.
Primary residence vs. Investment
You may be considering an investment purchase. Each dock has their own rules and restrictions around renting, especially short term rentals. Have your realtor check with the management about their rental policy. The most common restriction is 30 day minimum rentals but I know of at least one dock that does not allow any short term and determines other rentals on a case by case basis.
Enjoying your Home on the Water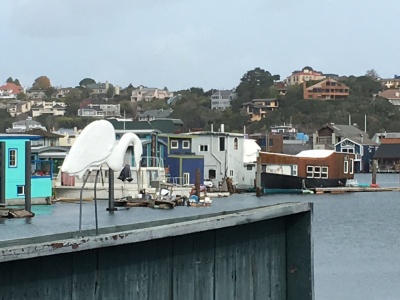 Now that we have gone through the reality check you can now imagine all of the wonderful benefits of living on the water. A sunrise kayak trip, the gentle rippling of the waves rocking you to sleep, the sweet smell of saltwater, watching the marine life and water birds.  There is a reason why people from all over the world fantasize about living on, renting or owning a floating home.
Enjoy your piece of waterfront heaven, the eclectic community and all the benefits of living on the water. Maybe I will see you out there one day - I will wave to you from my Kayak or invite you over for a sunset cocktail party!
If you have questions or want more information on the Sausalito Floating homes please give me a call or shoot me an email. Enjoy parts 1 and 2 of my 3 part article.
Are You Considering a Floating Home Purchase Part 1