Anchorage at Marina Bay & Other Developments
Posted by Ary Assadi on Thursday, July 16, 2015 at 12:07:28 PM
By Ary Assadi / July 16, 2015
Comment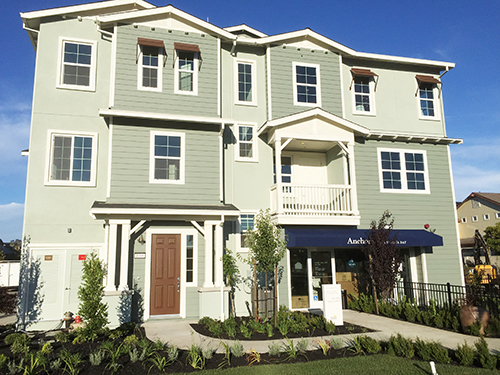 Pulte Homes has officially opened its doors to the new model homes at Marina Bay's Anchorage community. After halting construction on the remaining 4 lots back in 2008, Pulte has decided to complete the project. Needless to say the improving housing market is driving several construction projects in Richmond's Marina Bay neighborhood. Pulte's Anchorage will be offering 75 new townhouses ranging in size from 1,300-2,000SF and priced between $470K-$580K. The homes should be move-in ready within the next 4-6 months. This is a great opportunity to reserve your new home and avoid a multiple offer situation.Let me know if you are interested in this project and I'll be happy to set up a showing. See more here.
The nearby Artisan Cove live/work loft community has also begun phase II of its construction. After completing the first two buildings encompassing about 12 live/work units about a year and a half ago, the remaining two buildings have broken ground. The site has been graded and foundations are being poured. Construction should be completed by spring of next year. The community will offer a shared common area, onsite management and security cameras throughout.
After almost two years of road closure and construction, Marina Bay Parkway (Marina Bay's primary access road) has officially reopened to vehicular traffic beginning on July 2nd. The Officer Bradley Moody Memorial Underpass as the project is known, was a $200 million grade separation endeavor allowing traffic to flow into Marina Bay unobstructed from the commercial rail lines. More importantly police and emergency service providers will no longer be delayed from entering and exiting the community due to train crossings. This, along with all of the active and proposed new construction, as well as the impending commuter ferry service to San Francisco all bode well for the viability of Richmond's Marina Bay community.
Ary Assadi
East Bay Modern
415-216-5653