An Odd Little Tiburon Factoid
Posted by Marin Modern Team on Monday, March 14, 2016 at 3:41:02 PM
By Marin Modern Team / March 14, 2016
Comment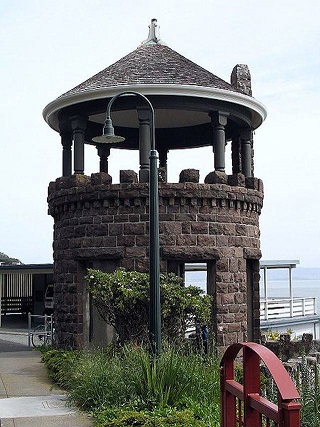 Just past the town of Tiburon there is a stone tower on the water's edge. I have stood in this tower and never knew its origin, simply assuming it was a decorative relic installed by the town's forefathers.This curious structure was actually erected by a private landowner, with a vision toward creating a planned community, "Lyford's Hygeia", dedicated to "healthful living". Hygeia means "Goddess of Health".
Dr. Benjamin Lyford was the man behind the vision, a civil war veteran and physician who made his fame through the invention of an exceptionally effective embalming technique.
Dr. Lyford gained great wealth through his marriage to his patient, Hilarita Reed.Hilarita's father was John Reed, the first white settler in Marin.He had been granted a tract of land by the Mexican government in 1834.Think about that.Less than two hundred years ago he was given a big chunk of prime Marin: The grant encompassed what is now southern Corte Madera, the Tiburon Peninsula, and Strawberry Point!Can you imagine the value of that land in today's terms?
Dr. Lyford applied his newlywed resources to the ideals he'd adopted through his studies and began to create a utopian community dedicated to outstanding health.I may too have been so inspired if I just received Tiburon as a wedding gift.His architect, J.S. Cahill described the requirements for the homes of Hygeia:"In all cases the kitchen and dining room were to be detached from the house proper wholly or through an open colonnade or pergola. No house should be in the shadow of another. All bedrooms and bathrooms were to get the morning sun without exception. And as to sleeping porches, a thing unheard of in those days, there was to be at least one on every house and every house was to cost at least $5.000. No house was to line up with another on any straight road - all were to be zigzagged or in echelon."
Further, the sale of tobacco and alcoholic beverages were to be prohibited in Hygeia.It would be a town of total abstainers.It seems that this restriction didn't receive a lot of traction, so he back-tracked and said, well, you could smoke and drink, but only inside your own home.
Regardless, none of the vision came to fruition because Dr. Lyford went blind and had to abandon the project.Cruel irony.
The names Lyford, Reed and Hilarita can be seen on various streets and buildings in contemporary Tiburon.And now you know where this charming little tower originated.