Amazing Art for Your Home at Bargain Basement Prices - Fort Mason Annual Print Sale
Posted by Marin Modern Team on Tuesday, December 2, 2014 at 11:22:11 AM
By Marin Modern Team / December 2, 2014
1 Comment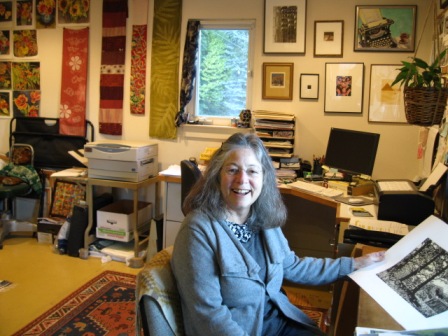 Interior designers, stagers, framers and shop owners flock to the opening night of the Annual Fort Mason Holiday Print Sale to snap up incredible prints by professional Bay Area artists at bargain basement prices.  Linda Lieberman, noted artist, printmaker and long-time resident of the West End Neighborhood in San Rafael is one of the featured artists at this year's 40th Anniversary of the Print Sale. The sale opens Friday December 5th and runs through Sunday December 7th.  According to Linda, the Friday opening can get pretty wild, but come Saturday or Sunday it will be less hectic and you will find some fabulous prints for your home or office.
I had the pleasure of interviewing Linda recently in her home art studio for the Neighborhood Spotlight column in the West End Neighborhood Newsletter. What started as an interview about Printmaking and the Fort Mason Print Sale, turned into a fun filled conversation about the Summer of Love, having Janis Joplin for a neighbor, making and delivering sandwiches in North Beach to "colorful" professionals to pay the bills, a 20+ year career and passion for teaching English as a second language at the College of Marin, the joy of printmaking and sharing a love for art with Jeff, her contractor/artist husband.
It was 1967 and the Summer of Love was in full bloom when Linda arrived in San Francisco having just graduated from the University of Wisconsin with a degree in art education.  Looking for fun and adventure, San Francisco was the epicenter of this social phenomenon.  Jobs were plentiful in just about anything except art education which was beginning to be phased out of the schools.  Consequently, Linda had a number of jobs: stat typist at BBDO, one of the world's largest ad agencies, a very Madmen experience; post office, welfare department as a social worker, and finally, cocktail waitress and bartender, the most lucrative job until people stopped eating meat and drinking to oblivion at which point, Linda returned to school for a master's degree and began her academic career.
During her varied career, Linda continued painting, mostly en plein air. At a certain point in in her journey as an artist, she wanted to gain a new and fresh perspective. She took a printmaking class and fell in love with the medium because it opened up so many more possibilities and surprised her with unexpected results. Her small, charming and untamed garden inspires much of her printmaking; the light at different times of day and year, the seasonal colors, the textures and patterns.  All or some of these elements can be found in the composition of her work.  What surprised me most about printmaking was how multi-layered, laborious and varied it can be with sometimes unpredictable results. It's also what keeps it interesting, challenging and creative.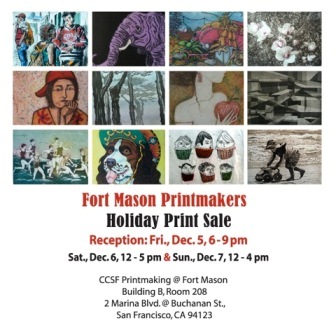 Situated on the water, Fort Mason is devoted to the arts, home to a music school, magic theater, classes and studios for painting, sculpture, photography and printmaking, the San Francisco Museum of Modern Art Rental Gallery, Greens Restaurant and much more.  If you go to the Print Sale, make a day or evening of it and enjoy one of San Francisco's crown jewels.
Janis Peterson, West End Neighborhood Real Estate Specialist, 415-271-3109 or
Janis@MarinModern.com