Alternative heating for Eichler's whose radiant system has failed
Posted by Hilary Davis on Wednesday, November 30, 2011 at 6:44 AM
By Hilary Davis / November 30, 2011
Comment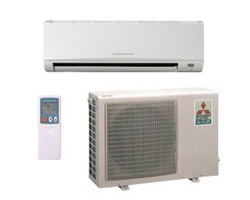 Over fifty years later, Joseph Eichler's iconic mid-century modern homes are still as popular as ever and San Rafael (Terra Linda and Lucas Valley), is full of them.  I have had the good fortune to live in one for the last eight years. I love the floor to ceiling windows, feasibility of one level living, indoor outdoor lifestyle and up until a year ago my fabulous radiant heat.  Radiant heat, a classic element in Eichler's building style, is a marvelous heating system that allows hot water to flow through pipes imbedded in the concrete slab and then radiate out to create a most wonderful warm home. But what happens if the 50 year plus system fails? The copper pipe systems seem to repair well, however mine was not made with copper pipes and it needed to be abandoned.  I looked into baseboard heaters, a popular fix, but decided against that because I didn't want to lose any of my "wall real estate".  I looked into a traditional forced air system, but decided against having my roof top look like the Pompidou Centre (please note, there are restrictions for roof top heating systems on Eichler's in Upper Lucas Valley).
While on broker's tour one day, I saw a ductless Mini split heating and AC system that was just installed in a newly renovated Eichler in Terra Linda. I was intrigued.  Each rooms heating/cooling unit mounts high up on the wall (no lost real estate), is ductless (no unsightly roof tops), offers heat and A/C (bonus on hot days) and can be individually controlled. 
Last winter my Mitsubishi Mr. Slim Mini Split system was installed. Each room in the house has its own unit and it's installed on a perimeter wall.  There are condensers on two sides of the house that control up to four units; essentially it is two separate systems.  I like being able to heat only the room that is being used, but must confess, I miss my warm heated floors.  I find this system to be a valuable alternative for any failed Eichler or Alliance radiant heat system.
If you are interested in knowing more about the ductless system I have or in real estate in Marin County, please feel free to email or call me.  I am a native Marin resident and know the county well and love to talk to people about their homes or homes to be.
Hilary Davis, Realtor 415.235.3133 [email protected]