Affordable Solar House Designed by Marin Architects' Rushton-Chartock
Posted by Marin Modern Team on Monday, March 12, 2012 at 7:54:48 PM
By Marin Modern Team / March 12, 2012
Comment
A recent Marin IJ story, "Living Small" spotlighted a very cool prototype for a 2nd unit that is state of the art and energy efficient.  It utilizes photovoltaic panels, on-demand water heater, state mandated insulation, energy efficient appliances and takes advantage of passive heating in winter months.  Many communities are making it "somewhat" easier to add a second unit as a way to meet affordable housing goals. Think of all the possibilities from an in-law unit for parents, a separate home office, housing for an au-pair or for that 21 year old++ who has moved back home!  Best of all, the design can be expanded to a 3 bedroom/2 bath, 1,031 sq. ft. single family home. The estimated cost is $237,000.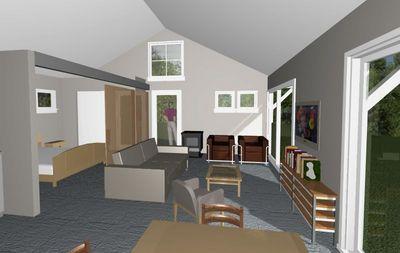 This design opens up so many possibilities and opportunities in Marin. Rushton-Chartock don't have any specific projects on the drawing board just yet. Hopefully someone will get inspired to Live Small in Marin and be the first to jump on the bandwagon.
Whether living life Large or Small, I'm ready to help you realize your dream.