A Spicy and Sweet Holiday Tradition
Posted by Cari Gennarelli on Saturday, December 27, 2014 at 9:00:16 AM
By Cari Gennarelli / December 27, 2014
Comment
Many families have traditions passed down from Grandparents. Others from the old world and some adopt them over the years. My family is not one rich in traditions. My paternal grandmother was the glue that bound our family's traditions and once she passed they pretty much crumbled.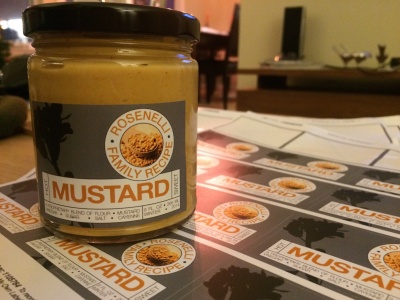 In 1987 or maybe it was 1988 I accidentally launched a holiday tradition with my dad. It started as a one-time experiment that went incredibly right and we have stuck with it every year without fail.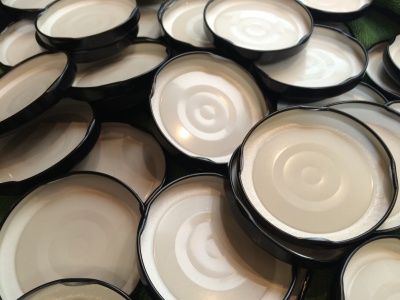 In my quest to figure out my life path after college I worked in the kitchen of a gourmet deli. There I learned the fine art of chopping stuff really fast and how to be a prep cook. One of my co-workers worked for a local restaurant that had since closed and that restaurant happened to serve my all time favorite mustard. That chef/co-worker may have stumbled upon that recipe and before I left the deli she may have shared it with me.
Over the years my dad and I altered the recipe slightly to make it our own and I would say that after 27 years it's officially ours!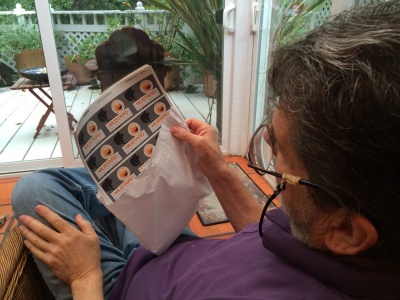 The mustard production happens just after Thanksgiving. We started making just one batch, which was about 12-9oz jars with hand written labels and adornments. From that first year there has been an evolution of labeling, batch size and packaging that I am quite proud of.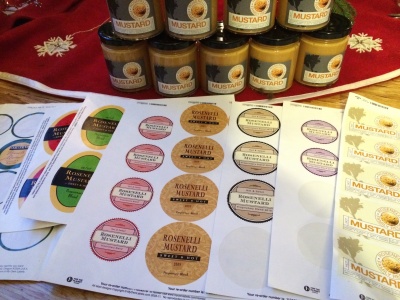 This year we have a professionally designed label and we filled 15 cases of jars. It would be great to have pictures of the finished product from each year but I did come across many of the old label designs.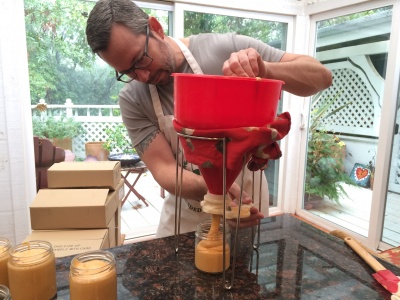 With the assistance of our label designer and my better half we also added some filling apparatus, which greatly sped up the process. I have dreams of finding a commercial Hobart to really expedite the process. The day starts with mixing dry ingredients with wet and blending until smooth. There is a lot of sarcastic banter and occasionally swearing. It's a messy process. Our reward at the end of the production run is a lovely lunch with my dad and his wife.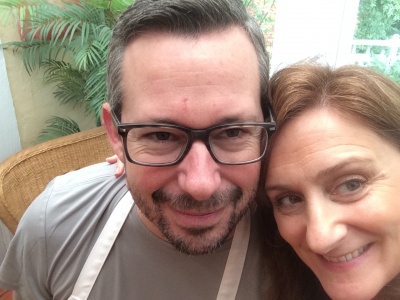 mustard produciton selfie
My holiday mustard list continues to grow each year. I hand deliver a jar to my clients and dear friends and always keep a case or two to share a jar with a new friend or throughout the year. Seems the love of spicy mustard is pretty universal. I did have one prospective client ask me to NOT deliver mustard to her and her husband. Ouch! Glad she let me know as I get calls mid year from friends wondering if there is an extra jar hidden away they could have. Would be a shame for the mustard to end up in unwanted hands.
Don't bother asking for the recipe. Many have tried and failed. It's our family secret and if we started handing it out what would be the point of making it every year?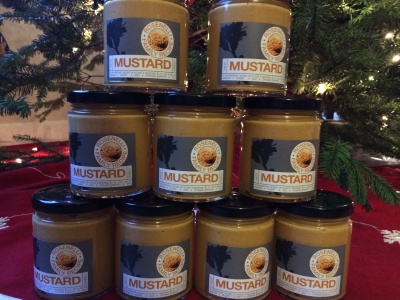 I love my holiday tradition and look forward to many more in the years to come. I am grateful that it is one I can share with approximately 130 or so people. What are your holiday family traditions? If one is making wine I would be happy to work out a trade! Have a wonderful tradition filled holiday season!