A Great Escape - The Pool at Francis Ford Coppola's Winery in Geyserville
Posted by Marin Modern Team on Monday, October 10, 2011 at 8:06:51 PM
By Marin Modern Team / October 10, 2011
Comment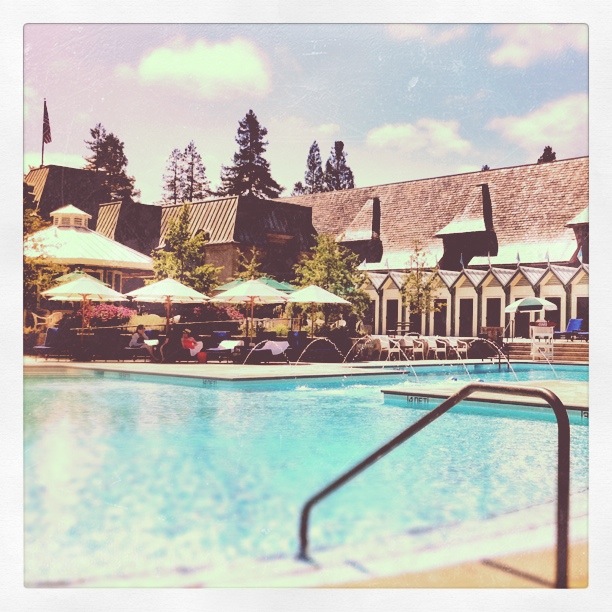 With the fall season upon us, they're only a few more weeks to soak up the sun at the Coppola winery pool in Geyserville.  If you haven't heard of this amazing new spot, I highly recommend a visit (or two).  
Overlooking the Alexander Valley vineyards, Coppola's vision was simple; to create a place where families could get together and enjoy all the wonderful things in life.  Mission accomplished!
The resort style pool is open to the public seven days a week and only costs $15 per adult, including the use of a towel. Children under 3 are free. Once in the pool area, you want to make sure to find a comfy chaise lounge chair or you can reserve ahead of time and book a cabine.  There are 28 European style cabines (cabanas) located on the perimeter of the property. Cabines cost $75 per day (includes two Adult Pool Passes, two Kids/Seniors Pool Passes and use of four towels). Each cabine has its own private shower and a place to change.
The pool café is an added bonus with delicious salads, sandwiches and drinks. Of course, no trip to wine country would be complete without a wine tasting room, which is located about 10 yards from the pool.
It's hard to believe this little slice of paradise in only about an hour from Marin, yet you feel like you're a world away.  Weekend days sell out fast, so you want to make sure you check out the website for availability.
Here's a guide to a perfect day at Coppola's winery.
Contact guest services for more information: (707) 857-1471
Visiting wine country is one of my favorite parts about living in Marin County. I welcome the opportunity to assist you in the purchase of your next home in Marin and look forward to sharing some of my favorite wineries with you.