9th Annual Winter Art Walk Jingletown
Posted by Marin Modern Team on Sunday, November 30, 2014 at 10:38:08 AM
By Marin Modern Team / November 30, 2014
Comment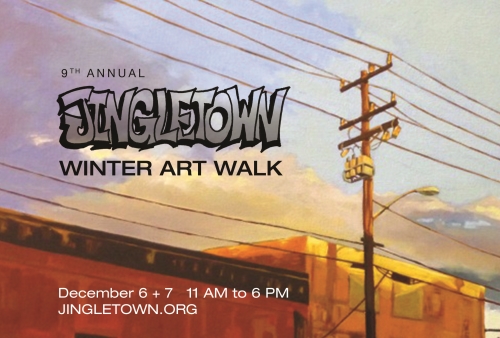 Having recently sold an amazing 2 story loft with 2 bedrooms, 3 baths and 20 ft ceilings in Fruitvale, I was researching the neighborhood and found that the Jingletown Arts & Business Community is holding it's 9th Annual Winter Art Walk, Saturday and Sunday, December 6 - 7, 11 a.m. to 6:00 p.m.
The annual winter event highlights the work of more than 50 artists who live and/or work in the area known as Jingletown, which is located between the Park and Fruitvale Street bridges bordered by the estuary separating Oakland from the island of Alameda.  There will be food trucks featuring delicious local products.
Jingletown has a large number of galleries, including: 420 Gallery, Gray Loft Gallery, Float Gallery, JIngletown Art Studio Gallery, Norton Factory Studios, as well as studios of many outstanding artists who are living and working here, one of the most established arts districts in the Bay Area.
Jingletown is located in Oakland as part of the greater Fruitvale subdivision. Today it is primarily a Latino populated area, but Jingletown got its name from Portugese cannery workers "who would walk home from canning fruit s from Fruitvale when they got paid and they'd "jingle" their pockets to express their pride in their earnings." Today the Fruitvale/Jingletown section is currently thriving as one of the fastest growing arts districts in the San Francisco Bay area. Among other notable artistic enterprises, it is the location of the only Institute of Mosaic Art in the United States.
Jingletown Arts & Business Community (JABC) mission statement is: " a grass-roots assembly of neighborhood artists, musicians, merchants, businesspeople and other residents, coming together in the spirit of cooperation and symbiosis, to foster and nurture community, to encourage and promote the mutual exchange of ideas, creativity, resources, expertise, sponsorship, productivity and patronage of what has become a superb burgeoning arts district."
If you're looking for a totally unique experience mixing art, food and cultural diversity, Jingletown Winter Art Walk, will not disappoint.